DentiMax dental practice management software helps you run your practice efficiently and effectively. It not only offers tight practice management and
dental xray sensor
integration, but also offers functionality that is simply not found in other dental software systems. From employee time tracking, to certified integrated credit card processing, to electronically capturing signatures on patient release forms, DentiMax has you covered.
Rated 5.0 by Dental Product Shopper,
our dental practice management software is intuitive, flexible and powerful. DentiMax is one of the only solutions to offer you software that can be
installed
in your office,
or
accessed through the
cloud
.
Want more info now? Text a live representative at 1 (844) 212-1225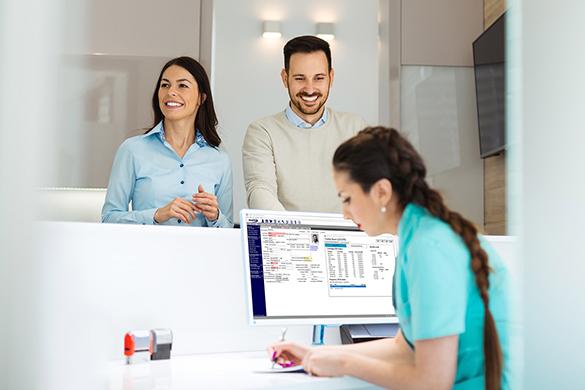 Integrated
DentiMax is designed to easily integrate and implement in your practice. Plus, there's no need for a third-party bridge between the imaging and charting systems when using our combined solutions, which helps simplify your workflow and your technology solution. Curious if your current technology systems will bridge with DentiMax?
Visit our partners page.
Affordable and Flexible
The best dental practice management software doesn't have to be expensive. We have options to fit every budget and situation. Whether you're looking for a low monthly fee for cloud-based solutions, or you want to buy traditional software - we have you covered.
Intuitive and Easy-to-Use
Practice management software doesn't need to be complicated. DentiMax makes it easy to run your practice, so you can focus on patient care.
---
Why choose DentiMax?
Our dental practice management software flows just like your dental office. From checking in a new patient, to viewing x-rays while treatment planning, to scheduling additional patient visits, DentiMax mirrors your practice's actual workflow. Plus, the software is packed full of easy-to-use but powerful features like electronic prescription writing and "live" patient insurance status updates. DentiMax helps you optimize efficiency, productivity and patient care. There's simply no other practice management software like it!
Secure, online software
Integrated patient texting
E-prescribing capability
Complete paperless functionality
Electronic patient insurance verification
Intuitive appointment book
---
Explore Our Dental Software