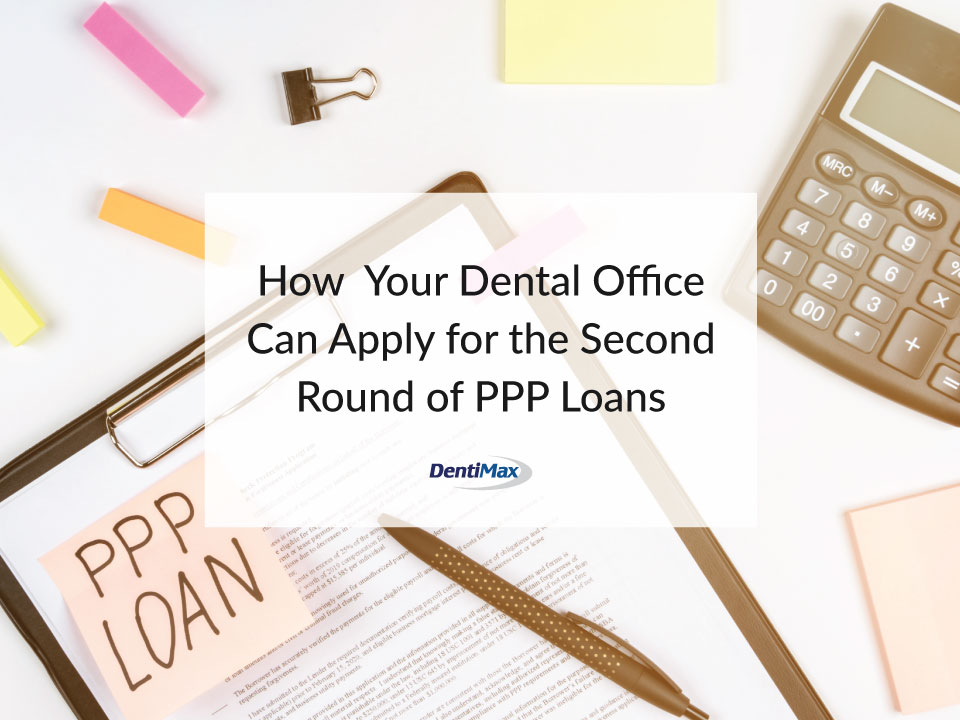 The U.S. Small Business Administration began taking applications for the second round of PPP loans on January 11, 2021, the loans provided through the Paycheck Protection Program.
Small businesses that didn't receive a loan the first time, or that fully spent their previous PPP money, can apply for this forgivable loan.
If your dental office was significantly impacted by the COVID-19 pandemic, and you meet all the criteria, you will want to apply as soon as possible. 
What PPP loans can be used for
PPP loans can be used to cover payroll costs, including benefits. It can also be used to pay for other operating costs such as rent, utilities, and even worker protection costs related to COVID-19.
Who can apply for PPP loans
If you were rejected the first time or didn't apply in the first round, you are eligible if you:
Are a sole proprietor, independent contractor, or self-employed.

Are a dental office with no more than $8,000,000 in annual revenue.
If you're applying a second time, you are eligible if you:
Already received a PPP loan and will or have spent all of the first loan only for the authorized purposes.

Have no more than 300 employees; and

Can show you lost at least 25% of revenue between comparable quarters in 2019 and 2020.
How to be eligible for PPP loan forgiveness
PPP loans are eligible for forgiveness if during the 8 to 24-week period after receiving the funds:
Employee and compensation levels remain the same.

You spend the funds on payroll costs and other eligible expenses.

At least 60 percent of the funds are spent on payroll costs.
How to apply for PPP loans
At first, the SBA was only accepting applications from community financial institutions or CFIs. But as of January 19, 2021, the program is open to all lenders.
Contact your financial institution for more information about how to apply. You can also download the application form if you want to begin preparing. 
Download here if it's your first time.
Download here if it's your second time.
The SBA will receive applications until March 31, 2021.