DentiMax Imaging Software is a complete, open platform imaging system. This means that this open dental imaging software works with other
dental xray sensors
. As well as
intraoral cameras
, panoramic machines, and cephalometric units.
Additionally, it also works with DentiMax dental practice management software. You won't have to deal with double-entry because our dental imaging software links or bridges with your practice management software.
DentiMax offers several software choices to meet your imaging software needs. That is to say it links to Dentrix®, Eaglesoft®, Softdent®, Easydental®, PracticeWorks®, and virtually all other practice management software. As a result, the software allows you to capture x-rays from any digital sensor you choose.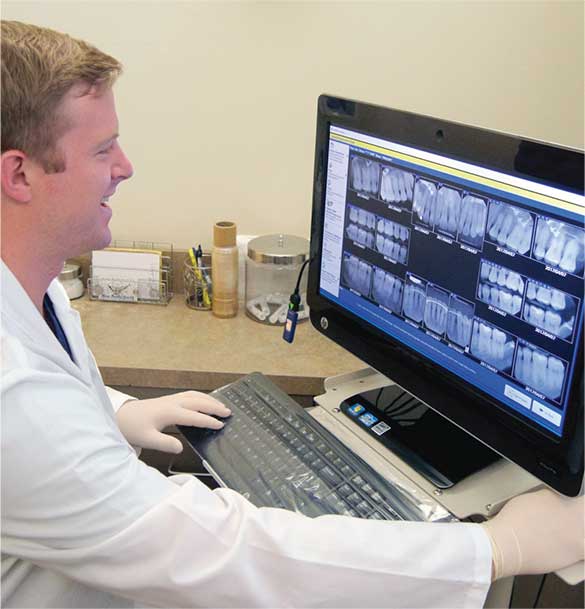 ---
Dental Imaging Software Catalog
We offer cloud and client/server software options.
DentiMax Imaging
A wizard-driven application, DentiMax Imaging by design works for touch-screens. With large buttons, it walks you through capturing and diagnosing X-rays easily. Practitioners require little training with the Standard Imaging version. This is because it is simple and easy to use. No matter your skill level, dental offices can take advantage of the newest technology in mobile computing devices.
DentiMax Advanced Imaging
The menu-driven system, DentiMax Advanced Imaging includes more features, tools, and add-ons than the standard version. It makes taking and diagnosing X-rays easier. Some key features include customizing toolbars, customizing "mounts", Combining image enhancements into groups called "Macros", and X-ray series. Fewer clicks to complete a task make it easier to use than most dental image applications on the market. The functionality is advanced, but the learning curve is not.
DentiMax Cloud Imaging
DentiMax Cloud Capture

Built and based on the DICOM standard, this capture software was designed to use in the DentiMax Dental Cloud Imaging software. With it, users can query images directly from the cloud. Dental offices can set up stand-alone capture machines without a client/server base.

DentiMax Cloud Image Viewer

Our cloud image viewing software is a browser-based application that works as an automated, off-site back-up, in addition to managing all your dental images (from X-rays to intraoral cameras, to digital pan and ceph x-rays). DentiMax's browser-based Cloud Image Viewing Application allows you to view your X-rays on any device with internet access. Cell phones, tablet computers, Android, Apple, or Windows; all browser enabled devices to become an X-ray viewer!

Working with your Cloud Images as a key component of our DentiMax Complete Cloud Solution as a stand-alone cloud-based imaging solution when combined with our DCC application; or, in combination with your existing Practice Management software. (Cloud or Client / Server Practice Management Systems alike) DentiMax Cloud Image viewer allows you to view, diagnose, and enhance images from any device with a web browser.
Not sure whether cloud or client/server dental software is the right option for your practice?
Check out Imaging Director, Jim Ramey, explain some of the differences during an interview with Chris Salierno, Chief Editor of Dental Economics.


Dental Imaging Software Comparison
Features
Open Platform
Patient Management
Name Grabber Imaging
Real Time Filters
Export
Full-Screen View
Image Bar
Customization Layouts
Touch Screen Compatible
Diagnostic Toolbar
Tool Box
Continuous Series
Multiple Periapical Layout
Custom Toolbar
Image Macros
Only touch screen compatible for capture and viewing x-rays
Advanced uses the Tool Box feature for the same purpose as the Diagnostic Toolbar and Standard and Cloud Capture use the Diagnostic Toolbar for the same purpose as the Tool Box.
Dental Imaging Software Comparison
DentiMax Imaging
Open Platform
Patient Management
Name Grabber Imaging
Real Time Filters
Export
Full-Screen View
Image Bar
Customization Layouts
Touch Screen Compatible
Diagnostic Toolbar
Tool Box *
Advanced Imaging
Open Platform
Patient Management
Name Grabber Imaging
Real Time Filters
Export
Full-Screen View
Image Bar
Customization Layouts
Diagnostic Toolbar *
Tool Box
Continuous Series
Multiple Periapical Layout
Custom Toolbar
Image Macros
DentiMax Cloud Capture
Open Platform
Patient Management
Name Grabber Imaging
Real Time Filters
Export
Full-Screen View
Image Bar
Customization Layouts
Touch Screen Compatible **
Diagnostic Toolbar
Tool Box *
Continuous Series
Multiple Periapical Layout
* Advanced uses the Tool Box feature for the same purpose as the Diagnostic Toolbar and Standard and Cloud Capture use the Diagnostic Toolbar for the same purpose as the Tool Box.
** Only touch screen compatible for capture and viewing x-rays