DentiMax dental practice management software helps you run your practice efficiently and effectively. It not only offers tight practice management and
dental xray sensor
integration, but also offers functionality that is simply not found in other dental software systems. From employee time tracking, to certified integrated credit card processing, to electronically capturing signatures on patient release forms, DentiMax has you covered.
Rated 5.0 by Dental Product Shopper,
our dental practice management software is intuitive, flexible and powerful. DentiMax is one of the only solutions to offer you software that can be
installed
in your office,
or
accessed through the
cloud
.
Want more info now? Text a live representative at 1 (844) 212-1225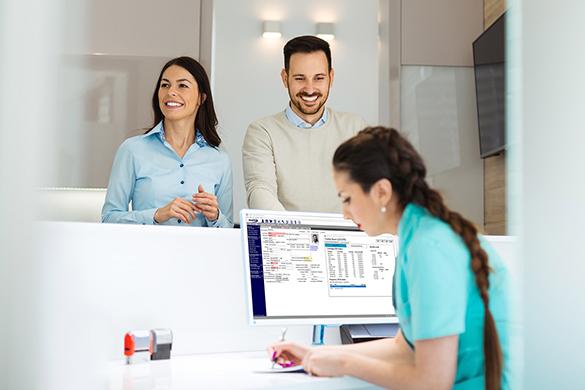 Integrated
DentiMax is designed to easily integrate and implement in your practice. Plus, there's no need for a third-party bridge between the imaging and charting systems when using our combined solutions, which helps simplify your workflow and your technology solution. Curious if your current technology systems will bridge with DentiMax?
Visit our partners page.
Affordable and Flexible
The best dental practice management software doesn't have to be expensive. We have options to fit every budget and situation. Whether you're looking for a low monthly fee for cloud-based solutions, or you want to buy traditional software - we have you covered.
Intuitive and Easy-to-Use
Practice management software doesn't need to be complicated. DentiMax makes it easy to run your practice, so you can focus on patient care.
---
Why choose DentiMax?
Our dental practice management software flows just like your dental office. From checking in a new patient, to viewing x-rays while treatment planning, to scheduling additional patient visits, DentiMax mirrors your practice's actual workflow. Plus, the software is packed full of easy-to-use but powerful features like electronic prescription writing and "live" patient insurance status updates.DentiMax helps you optimize efficiency, productivity and patient care. There's simply no other practice management software like it!
Secure, online software
Integrated patient texting
E-prescribing capability
Complete paperless functionality
Electronic patient insurance verification
Intuitive appointment book
---
Optimize Your Workflow
Your practice management solution from top to bottom.
Customize your Home Screen and System Experience

Create your own personalized Home Screen with shortcut links to your frequently used areas of the software. You can even customize the look of your screen by using our color changer feature.

Digital Patient Registration

Online registration allows your patients to take care of their paperwork, medical history and forms digitally before they ever step foot in your practice.

Manage Patient Info

The patient information screen is designed to give you easy access to all your patients data, including the ability to set patient contact and appointment preferences, patient journal entries, and insurance data at your finger tips.

Schedule Appointments Intuitively

The most powerful and easy-to-use scheduler on the market with advanced features for one or many locations.

Chart Effortlessly

Our speed charting with customizable charting buttons, clinical note templates, and treatment plan ordering will have you looking like a pro!

X-ray Integration

When you have our suite of products working together, you'll get an unriveled x-ray integration that let's you filter images by tooth number and blow up images for enhance viewing all from the comfort of the chart screen.

Line Item Accounting for Clear Balances

Our ledger is the most powerful accounting system available. Line item accounting let's you post payments exactly as an EOB would read.

Insurance Claim Tracking

This screen was specifically designed to pull all your relevant patient and claim information into one place, sorted by primary or secondary insurance, and placed in aging buckets. Work through your claims smarter, not harder!

Keep Track of Collections

Our collections module easily let's you identify past due accounts and place them into 3 potential collections statuses. In addition to a pop-up note on the patient record, you'll also have a color coded ledger that alerts you quickly to the patient's account status.

Comprehensive Reports

We offer all the typical reports a practice needs, plus many reports to give you extra insight into your practice like the Appointment Time Analysis. Our reports will help you uncover gaps in your workflow and allow you to make changes for a better patient experience and smarter work day.