Ready for some extra exciting news? DentiMax Software is happy to announce that we'll be offering an upgrade coming this fall to the latest and greatest software, DentiMax 20!
Outside of your team, practice management software is the heartbeat of your office. That is why having software you can rely upon and trust is crucial. DentiMax 20 is the most powerful practice management tool coming to market. 
Not only will DentiMax 20 help your practice collect more money, but the transparency it lends to your financial data is exactly what you need!
This isn't everything, but here is your first look at some knock-out features you can expect to elevate your practice to the next level.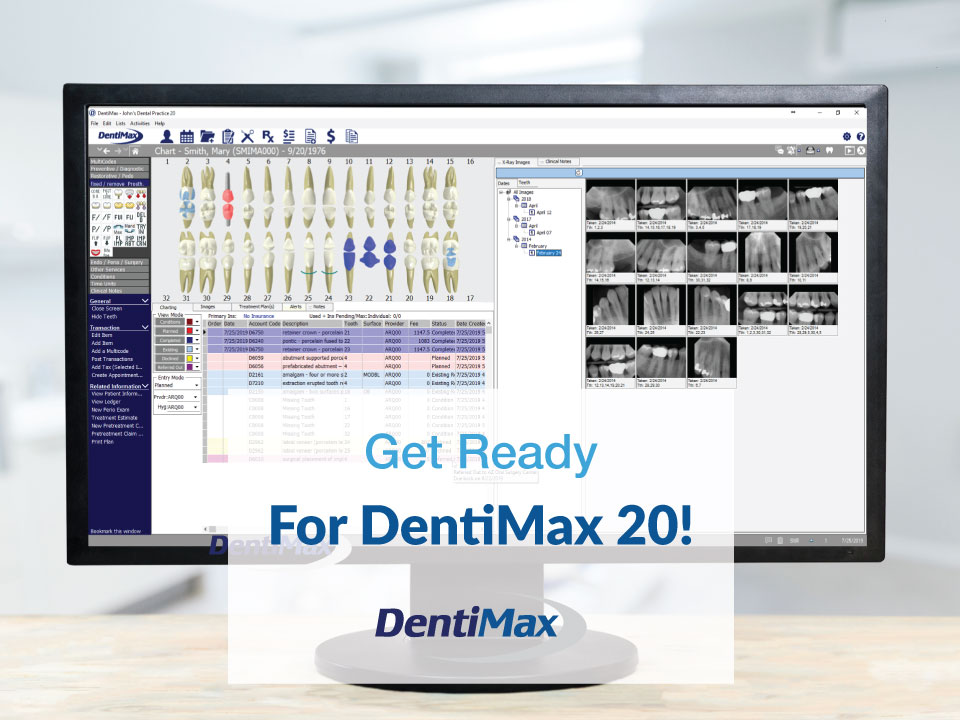 Graphics/Visual Aids/Analytics
Probably the most fun feature of DentiMax 20, especially for those of you who are visual people, is our new Color Changer feature! You can now change the sidebar, menu bar, footer bar, accessory bar, and the odontogram background to any color you'd like! Some funky themes we have available for you are a Halloween theme, Christmas theme, Easter theme, girl theme, boy theme, and dark theme.
Another visual aid we've added is our new "required and recommended" field settings. With this new feature, you will be able to customize required fields for your staff to fill out by color code and also which fields are recommended. Team members will not be able to save the patient's record until they complete mandatory items. 
The ultimate visual aid in training will be available in DentiMax 20 as well, with the new On-Demand Training Guide! Forget how to do a patient refund? Click the video link in the top right corner of the screen and play the Refund video on demand. New staff members will not only have a road map of what to fill out in the software, but how to function within the screen with just a click! Better yet, you will be able to click on the screen and follow along with the video at the same time!
Patient Info/Scheduling/Charting
At the heart of your dental office are your daily operations. These boil down to patient info, scheduling, and clinical charting. Here are just a few of the awesome new tools you'll have to enjoy in DentiMax 20:
Be empowered to quickly find appointments for your patients and communicate with them by assigning a preferred contact method, setting their preferred scheduling hours, and setting their patient language.
We've also enhanced the Patient Journal to show you some pretty amazing things, like patient assignments/acknowledgments needed, a snapshot of their primary and secondary insurance benefit info, and the patient's account balance. The Patient Journal can be easily accessed from any screen where you can select a patient. 
Scheduling
Family recall scheduling has never been easier! Simply select the charges for one family member that you wish to schedule in the recall screen, then double click on the next family member, and so on. The system will prompt you to add their recall appointments to the schedule so you can set the entire family up with appointments in bulk!
For practices with multiple locations, DentiMax 20 will now offer billing and scheduling according to the patient's facility! Toggle between the locations on the schedule, and post charges according to the patient's facility. You'll be able to filter the ledger, schedule, and reports by location now, instead of just by provider.
The chart screen will also offer you the ability to quick schedule by highlighting the desired treatment plan items and selecting 'Create Appointment'. Add The patient's appointment to the clipboard to drop in a time slot that works for your patient!
Treatment Calculations, Estimations and Planning
Wowza! DentiMax 20 is sizzling hot with the new features we have for your Treatment Coordinator! DentiMax has taken the guesswork out of insurance estimates for your practice. Along with having the patient's insurance benefits at a glance from any screen, your Treatment Coordinator will be happy to let the software calculate estimates in a smarter way by setting coordination of benefits between primary and secondary insurance, set alternate fees, set non-covered items, and add downgrade calculations on charges not covered by insurance, or that aren't covered according to the billed code. 
Not only that, the system will warn your staff if you are scheduling the patient outside of the Age and Frequency limits for their insurance benefits and what services they've have had done for the year so far.
Financial/Insurance Wizards
If you do Ortho in your office, DentiMax 20 is a must for you! We've added Advanced Ortho Billing options for you to set a separate Ortho max, an Ortho age limit alert, an Ortho billing frequency, auto-reduce months of remaining Ortho treatment, and a quick re-bill wizard for your Ortho claims! 
We all hope we won't have to use it, but DentiMax 20 now offers a Collections Module where you can assign high, medium, or low collection efforts to past due charges. You'll also be able to run collections reports in-house or send them to a collections company of your choosing.
Managing your statements has never been easier with the new Statement Manager! You'll have a separate screen just for viewing and reprinting a copy of a statement you generated. This will allow you to see the history of what you sent to the patient and track the unique statement code for more clarity to see exactly what the patient received. 
Billing
Allow your biller to work from one screen with the new Insurance Aging Drill Down! This screen will allow you to systematically filter past due claims by age, by insurance plan, and see the outstanding claims connected to each company by patient. You'll then be able to drill down even further to see the charges on the claim, make notes about the claim you are working on, what your conversation with the insurance company was about the claim, and see any relevant claim details right from there. 
You'll no longer have to print pages of reports, pull up separate screens and make notes. We've centralized all the claim data for you!
We have a few other expansive features relating to claims we think you'll love, like new claim statuses such as Suspended Resubmission. You'll also be able to quick copy claims, as well as split claims. Your practice will also be able to check the live claim status right from the DentiMax claim screen for up to the moment info (*Powered by DentalXChange).
System Features
We added updated security features so you can dictate who has the ability to edit each and every part of your transactions for both planned and completed treatment items. We also customized alerts to pop up for specific user settings. 
It is important to have relevant and detailed information on your reports, so we have re-invented each one to show you some of the great new info we are tracking, such as preferred contact method as well as facility driven reports. We also created a host of new reports which include business intelligence, collections, and patient retention.  
DentiMax 20 adds clarity to your practice like you've never had before and gives you laser focused tools to make your staff more efficient and streamline your workflow. It's a powerhouse of new features focused on smarter, stronger, faster collections, to make your day smoother. Look for the upcoming release announcement, sneak peeks, and webinars coming your way! Don't wait, sign up for the DentiMax All Access Pass, or cloud service now, and get DentiMax 20 totally free when it launches!
Compare DentiMax 20 to the Competition
The newest version of the software provides flexibility and scalability you won't find in other software. Don't believe us, check out our head to head software comparison.

Alicia Dieujuste has over 17 years of dental experience between working with a dental consulting firm in several types of dental practices to working in the dental software space.