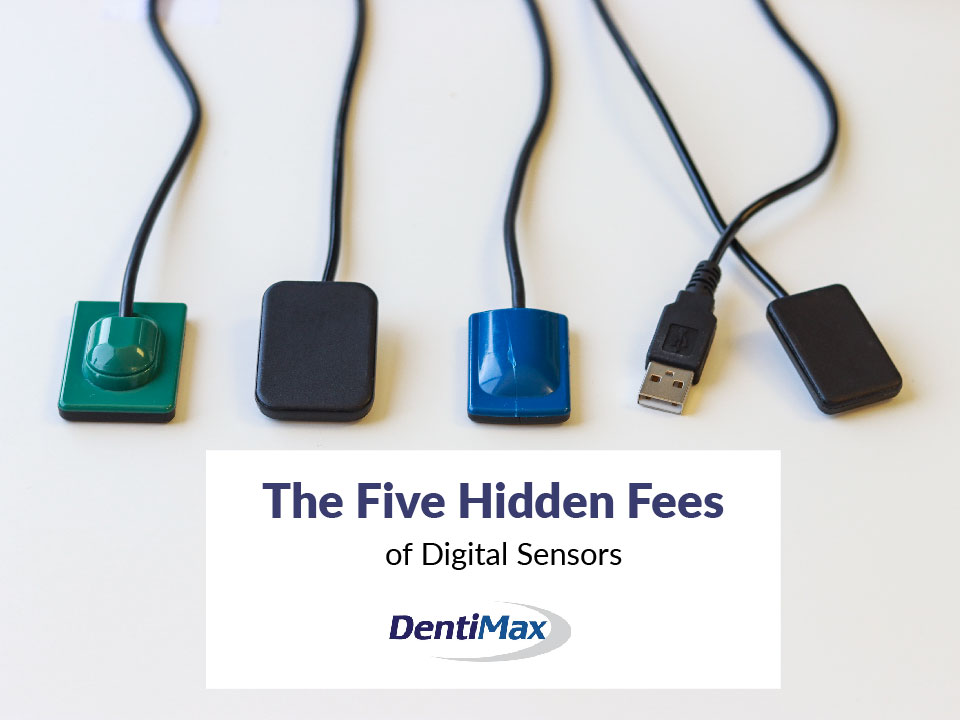 How much does a digital sensor cost? When shopping for a sensor, it is vital to know all the various costs associated with the sensor, rather than just the cost of the sensor itself. Most digital sensors cost between $3,000-$10,000. This price includes the sensor, positioning kit, and manufacturer warranty. However, the sensor cost can drastically increase once accounting for hidden fees. Here is a breakdown of the top five hidden sensor fees every dentist needs to know.
Warranty Coverage
Manufacturer Warranty
Most sensors come with a manufacturer warranty that covers the sensor from any manufacturer defects. On average, the length of the warranty will last between one to three years.
Accidental Damage Warranty
Along with offering a manufacturer warranty, some companies offer an accidental damage warranty for an additional fee. This allows you to purchase a replacement sensor for a discounted price or after paying a deductible. Accidental damage warranties vary in what they cover, how long they last, and how much they cost. Some accidental damage warranties have a one-time fee. Others will require a monthly or yearly fee that can add up fast. Accidental damage warranties cost around $600-$2,000 per year.
You will want to verify that the company's replacement sensors are new and not refurbished. Refurbished sensors have a shorter lifespan. Before purchasing an accidental damage warranty, read the terms and conditions to know what the warranty covers.
No-Deductible Warranty
Many companies advertise that they include a no-deductible warranty with the sensor. They are referring to the manufacturer warranty and not an accidental damage warranty. Most sensor companies, if not all, do not have a deductible with their manufacturer warranty.
Support Fees
Before purchasing a sensor, you will want to consider the company's support plan. Most companies will charge a monthly or yearly fee for support. It is important to note that some will charge a fee for each sensor purchased while others will charge a flat fee for multiple sensors. Some companies charge as high as $1,000 per sensor/year, this adds up fast! Fortunately, a few companies will include support for free during the first year. This is when you usually use support the most.
Leasing Sensor/ Sensor Club
One new option is leasing the sensor from the manufacturer for a lower upfront cost and a monthly subscription fee. This may be a good option for practices that are looking for a low entry fee, however, monthly payments will cost more compared to buying the sensor outright. You will want to compare the total dollar amounts over three years. As you do this, pay attention to hidden fees such as the accidental damage warranty and setup fee. If you cannot afford to purchase a sensor outright, some manufactures offer financing which will cost less than leasing the sensor.
Software Expense
Along with purchasing a sensor, you will need to invest in imaging software in order to capture, store, and diagnose digital X-rays. Often the price depends on how many workstations the software is installed on or the number of office locations us­­­ing the software. Many sensor manufacturers will include or discount the software with the sensor. However, if you purchase imaging software separately, the price can drastically increase. Other factors to consider when purchasing imaging software include: if the software is an open or closed platform, frequency of software updates, and features.
Closed Sensors
If your practice already owns imaging software and you are adding a sensor or replacing a broken one, make sure the sensor you are purchasing is compatible with your existing imaging software. Many sensors are designed to only work with the original manufacturer's imaging software which makes it harder to add or replace sensors. Luckily, some sensor brands are specifically designed to work with most imaging software on the market. These sensors will work alongside your office's current sensors and capture x-rays directly into your current software without disrupting your workflow.
Conclusion
Knowing all the hidden fees associated with the sensor will help you calculate the true total cost so you can make a more informed purchasing decision. Next time you speak with a sensor supplier, you can now cut through the sales jargon and say goodbye to hidden fees!
The DentiMax Dream Sensor
The DentiMax Dream Sensor is the first dental sensor designed to work with virtually all software on the market so you can continue using your existing software while leveraging the quality and affordability of the Dream Sensor. Compare DentiMax to other popular sensors.
For a limited time, get a Pedo Sensor for $2,999 and an Adult Sensor for $3,999.

Jim Ramey holds a B.S. degree in management information systems from the University of Akron. Since 2003, he has worked exclusively with digital radiography technology and has experience with most sensors on the market, including digital, panoramic, cephalometric, and intraoral cameras.