For any office, especially a new office, filling those dental chairs with paying patients is always a huge concern. Here are a few things you can do to acquire new patients.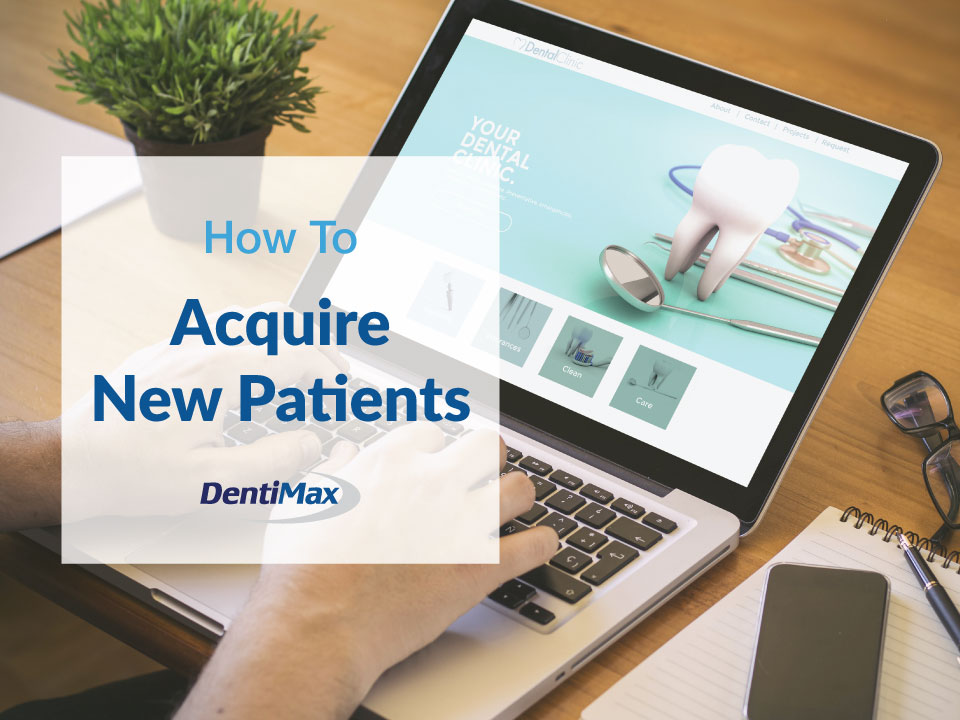 Social Media
Social media can be a great way to advertise your offers and get patients.
According to a PricewaterhouseCoopers report, 41 percent of respondents said social media influenced their choice of a healthcare provider.
This becomes even more relevant if you want to attract Millennial patients since 83 percent of Millennials have a Facebook account.
Internet Reviews
According to a survey conducted by Software Advice, 72 percent of patients read online reviews as a first step when they're looking for a new provider.
The same survey also shows that 94 percent of patients use review websites not only to read reviews but also to post comments about a provider. This means if you want patients, you need to keep your current patients happy because they're the ones who are going to take the time to write a review for you, and you want it to be a good one. 
Fortunately, there are several reputation management review tools out there that can help you streamline the process of getting reviews posted. With DentiMax Communicator for example, you can get reviews posted directly to Google, Facebook and Yelp.
New Patient Data – Auto Appointment Booking
Make it easy for your patients to schedule appointments with your practice, especially the newer patients. Having an online booking tool —or at a minimum a request for appointment tool— will allow your patients to book an appointment after your practice closes instead of trying to find time during their busy work day to call the office.
Also, allowing your patients to complete their registration online will certainly help them commit to showing up on time —instead of early for paperwork— and gives them some buy-in to follow through with the appointment since they've taken the time to complete several pages of "paperwork" at this point.
Groupon
Groupon is one of the most important online sites where you can share your coupons and discounts. If you offer a good deal, chances are you will attract new patients. Then it's up to you to offer great customer service so those patients become regular ones.
Work Weekends
Working weekends will bring in new patients who have emergencies and is a great way to increase the cashflow coming into any office.
For the new offices, working weekends before going to a full week schedule will give you the opportunity to work the kinks out of all your new equipment and systems.
State Medicaid
Most state Medicaid plans pay reason­ably well, so consider enrolling as a Medicaid provider in your state Medicaid plans to provide care to Medicaid patients."
PPO plans
Don't be afraid to enroll with additional PPO plans that offer decent fee sched­ules (but do stay away from HMO plans).
Each new patient who comes from an insurance-plan directory is one less patient you have to pay someone else (Coupon Mailers, etc.) to bring in to your office.
Office Signage
If your office has good street exposure, you may want to consider placing a banner or sign with an attractive offer to attract new patients.
"Free Teeth-Whit­ening with Cleaning and Checkup" is a clear winner to attract patients.
Coupon Books for New Patients
Consider advertising in one of the local coupon-mailer books. Again, the "Free Teeth-Whit­ening with Checkup" offer may be your best bet to get new patients to call.

David J. Arnett holds a business degree from Brigham Young University, and an MBA from the University of Phoenix. Arnett has owned and operated dental offices and is the co-founder of DentiMax.