Dr. Ryan S. Brown, DDS, shares with us in this article how to adopt paperless dental software in your practice.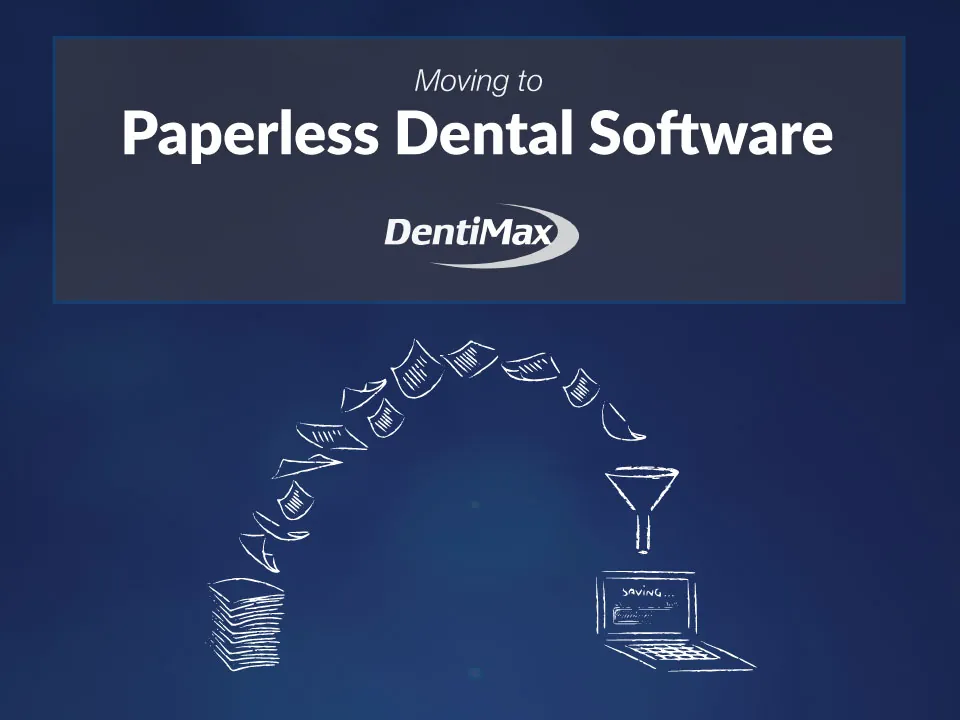 Throw out your progress notes, x-ray film, and the other systems you used for years. Now try going into work the next day with an all-new paperless system that you and your staff have neither seen nor used. Also, did I mention that your day is packed full of patients?
In this kind of nightmare, it can make any dental team anxious and prove a recipe for disaster. Fortunately, offices that want to go paperless don't have go all at once. Instead, they can take it one step at a time.
Let me suggest three initial steps to going paperless:
Start creating treatment plans from within your software
Go digital with your dental x-rays
Finally finish incorporating paperless dental software
Use Your Software to Create Treatment Plans
Because dental practices can computerize perio measurements, then the dental office can instantly access patients' perio charts from any computer.
Many offices still use paper to record patient treatment plans. They may feel that the computer is too slow, be adverse to change, or see no real value to creating treatment plans on the computer.
Basically, with today's practice management systems like DentiMax and other brands, treatment planning from the computer within your operatory always occurs faster. But beyond increasing your treatment plan recording speed, offices can electronically capture information more easily. As a result , it lends itself to a better office workflow.
How Dental Software Can Help
Finally, the right dental software can help. Going paperless is easy then. Because you can now print things as you need them, not just because you have to.
It really is a beautiful thing to watch the smooth flow of information between the back and front office as a treatment plan, perio, clinical notes, and other data is shared to create claims, statements and new appointments.
Go Digital with X-rays
Now, for a real productivity boost, combine your practice management software with a digital x-ray system. Using these two systems together lets you view digital x-rays while treatment planning – at the same time. And the advantages of digital x-rays over traditional film are well documented.
With a digital x-ray system, you gain these benefits:
save time by not waiting for the film to develop,
use less radiation on your patients,
send your x-rays electronically for faster payment,
use software tools to educate patients,
and eliminate your film and chemical developing solutions.
If you haven't already gone digital, now is a good time to shop. Like everything electronic, prices have come down and the technology has only gotten better. Companies like DentiMax, DEXIS, Kodak, Schick, and others offer high-end digital sensors that take incredibly clear x-rays; you might want to check out their latest product offerings.
Adopting Paperless Dental Software
If paper continues to clutter and overrun your desk, add digitizing document software to your computer. Digital document software helps your office organize, capture and store: patient insurance cards, driver's licenses, signatures on your financial/privacy release forms, and printed documents. The beauty is that, once your patient's paperwork enters into the computer, it remains always in the computer. Through these means, it makes it easily accessible from any of your computer workstations. Many practice management systems now offer this kind of software. You may even find that you already own document software but just haven't used it.
Throwing your paper and manual systems out the window one day and switching "cold turkey" the next to a completely paperless system could be a bit too much for any office. Fortunately, going paperless is not an all-or-nothing proposition. From using your software's existing treatment plan to digital x-rays and digital documents, you can go paperless one step at a time, at your own pace. What are you waiting for?

David J. Arnett holds a business degree from Brigham Young University, and an MBA from the University of Phoenix. Arnett has owned and operated dental offices and is the co-founder of DentiMax.