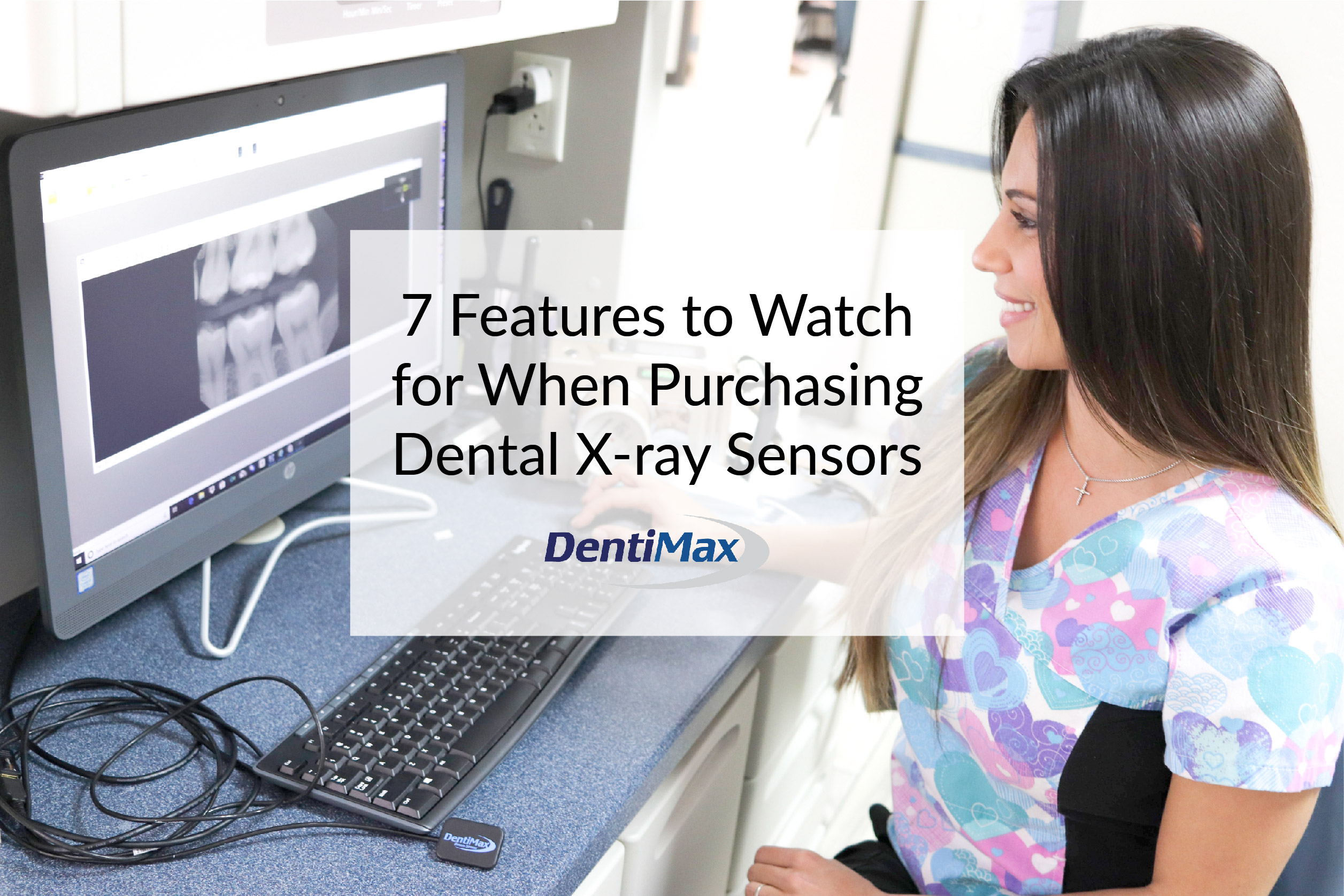 Purchasing a dental sensor is almost like buying a car. You do some research to find out which one is right for you, you create a budget, and you give it a test run before purchasing.
If you're thinking about purchasing a dental sensor, make sure you compare these features before making a decision.
Price
Buying a dental X-ray sensor is an important investment. Most digital sensors cost between $4,000 and $10,000. Considering all the other expenses a dental office has, from PPE and dental equipment to software and payroll, overspending on sensors is not an option.
When comparing sensor prices, you need to account for additional fees as well as the sensor warranty, which we'll talk about further down. Additional fees include support costs, software licenses, and replacement costs in case your sensor needs repair outside of the manufacturer warranty.
Furthermore, if the sensor you are purchasing is not part of an open system, you will be limited to sensors and software from the same company; and won't be able to shop around for better deals when looking to add or replace sensors down the road.
Sensor size
Sensor size is one of the most important features to consider when buying a dental sensor. Thick and bulky sensors are harder to place inside the patient's mouth, making the experience more uncomfortable. Using sensors with a thin body allows for easier sensor placement, which is vital for treating patients with smaller jaws or anatomical variations. In addition to a thin body, some sensors have rounded corners to improve sensor positioning and patient comfort.
Warranty and replacements
When it comes to warranties, we need to distinguish between the manufacturer warranty and the extended warranty.
Most sensors come with a manufacturer warranty that covers the sensor from any manufacturer defect. Make sure you ask how long the manufacturer warranty lasts. The length of the manufacturer warranty will typically last between one to two years and three years on the high end.
Some companies also offer an extended warranty, sometimes referred to as a replacement plan, for an additional fee. Some extended warranties only cover manufacturer defects and others cover accidental damage not covered by the manufacturer warranty, such as running over the sensor with your chair. Make sure to ask if the extended warranty only includes manufacturer defects or if it also included accidental damage.
The extended warranty allows you to replace the sensor for a reduced price or a deductible. While sometimes included with the sensor, these warranties typically have a one-time, monthly, or yearly fee, which can add up fast. Extended warranties typically cost between $600 to $2,000 per year.
In addition to warranty coverage and cost, always verify if the replacement sensors are new or refurbished. Refurbished sensors have a shorter lifespan.
Cable repair
One of the most vulnerable parts of the sensor is the cable. Damage to where the cable enters the body of the sensor is the main reason sensors break. That is why the cable should be reinforced with Kevlar or other strengthening materials.
However, even if the sensor's cord is Kevlar-reinforced, the sensor cord may be damaged eventually. If the cable breaks, some companies will simply repair the cable while others will make you replace the entire sensor, costing you thousands of dollars.
Technical support
Sometimes things don't go as planned, and questions or concerns about your sensor or imaging software will come up.
That is why you also need to ask about the company's support plans before buying a sensor. Most sensor companies offer monthly or yearly support fees. However, watch out for companies that charge a fee for each sensor purchased because it adds up fast. It's better to pay a flat fee regardless of how many sensors you buy.
A few companies will even include free support during the first year when you need it the most.
Image quality
Image quality is a pretty easy way to tell if a sensor is worth your money because that's where its diagnostic value lies.
How can you tell if the image is high quality? Zoom into an X-ray, and if it looks grainy and pixelated right away, the resolution is low. For the sensor to render a high-quality X-ray, you need to consider two things. First, how the sensor itself is built —such as the scintillator and other internal components. Second, how the sensor interacts with the imaging software in terms of image enhancement capabilities. As mentioned earlier, some sensors are designed to work with most imaging software on the market, while others will only work with the imaging software that comes with the sensor.
Another aspect often overlooked is the sensor's active imaging area. The active imaging area represents the area the sensor captures compared to its size. It is important because a smaller active imaging area can lead to missing specific structures such as the apex of a tooth. Also, the larger footprint allows you to capture more teeth in the X-ray. High-quality sensors have an active imaging area of around 900 mm2, representing 65% to 70% of the sensor's size.
Conclusion
After doing a thorough check of all the features mentioned here, plus any additional needs your practice may have, you will be able to make an informed decision. Before purchasing, see if the company offers a free trial so you can verify the sensor is up to standard. Once you have the best sensor for your practice, you can focus on what matters most, taking care of your patients.

Andrea has a mass communication degree from ASU and comes from a journalism background. She is originally from Mexico City and speaks Spanish as a first language. She loves listening to podcasts and prepares great chilaquiles.