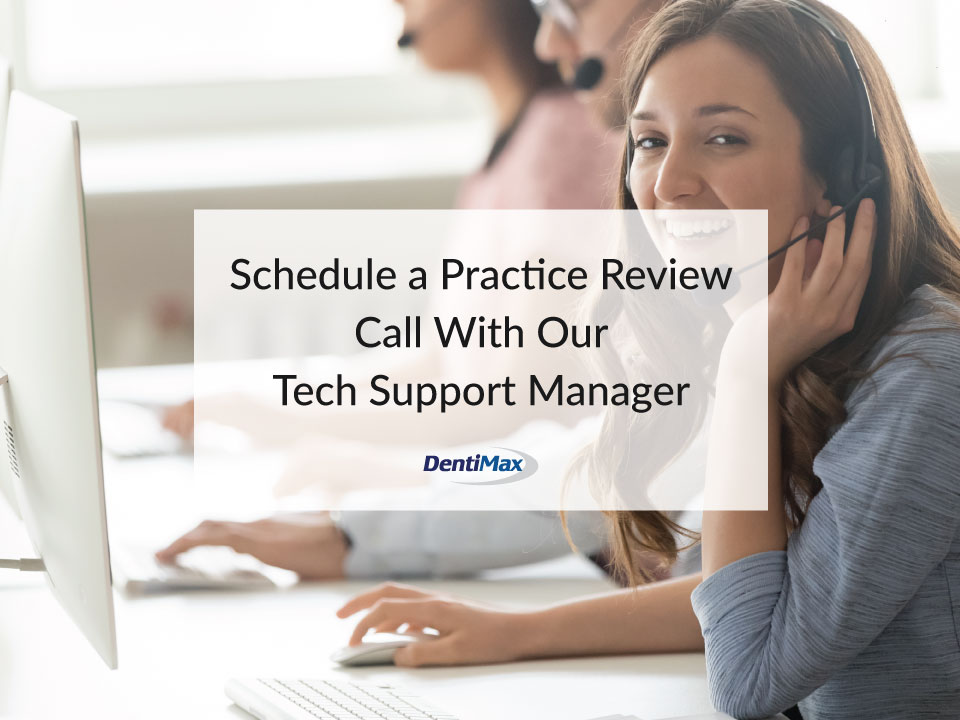 We love having you as a valued customer and part of the DentiMax team. We want to partner with you and your staff to make sure you get the most out of your software and feel empowered with the tools provided. We're offering all of our existing practice management customers a Practice Review with our Technical Support Manager to help ensure the system is set up to fit your practice's needs and preferences, no charge to you.
What is a Practice Review?
Your Practice Review call will cover the following items:
Confirm the package your office has purchased and make sure our support team has installed all applicable modules.
Review any added perks of the package.
Confirm your practice has the proper number of logins for your needs.
Review your network and internet setup connections.
Ensure DentiMax knows the main point of contact/representative from your team for any software concerns.
Verify the credit card processing service, clearinghouse, and any other third-party service you may use and confirm integration (if applicable).
Review the reports your practice typically uses and set up your DentiMax system with those reports as favorites, or discuss any report customization needed.
Review recall plan and make sure system defaults are set up to meet your needs.
Discuss any outstanding technical support or training concerns and schedule follow up calls as needed.
Review how to reach support or training going forward, and any internal contact information your team may need.
Ensure your team knows how to access additional free training videos and webinars.
Add your team to the DentiMax Community online.
What Should I Do?
We would ask you to plan for 30 minutes to an hour to discuss these items, may require a follow-up after your call.
Please add the following contacts to your email address book so you stay up to date on support and training items. By adding these addresses, you can help ensure these important emails do not go to your junk folder. You can always unsubscribe if you want to.
To schedule your free Practice Review, please email [email protected] and add "Practice Review" to the subject line. We look forward to helping you get the most out of DentiMax!

Laurel Englund has been in the dental field for over 23 years. She has experience in support and quality assurance, as well as 7 years in dental consulting and 3 years managing a dental office using DentiMax software.