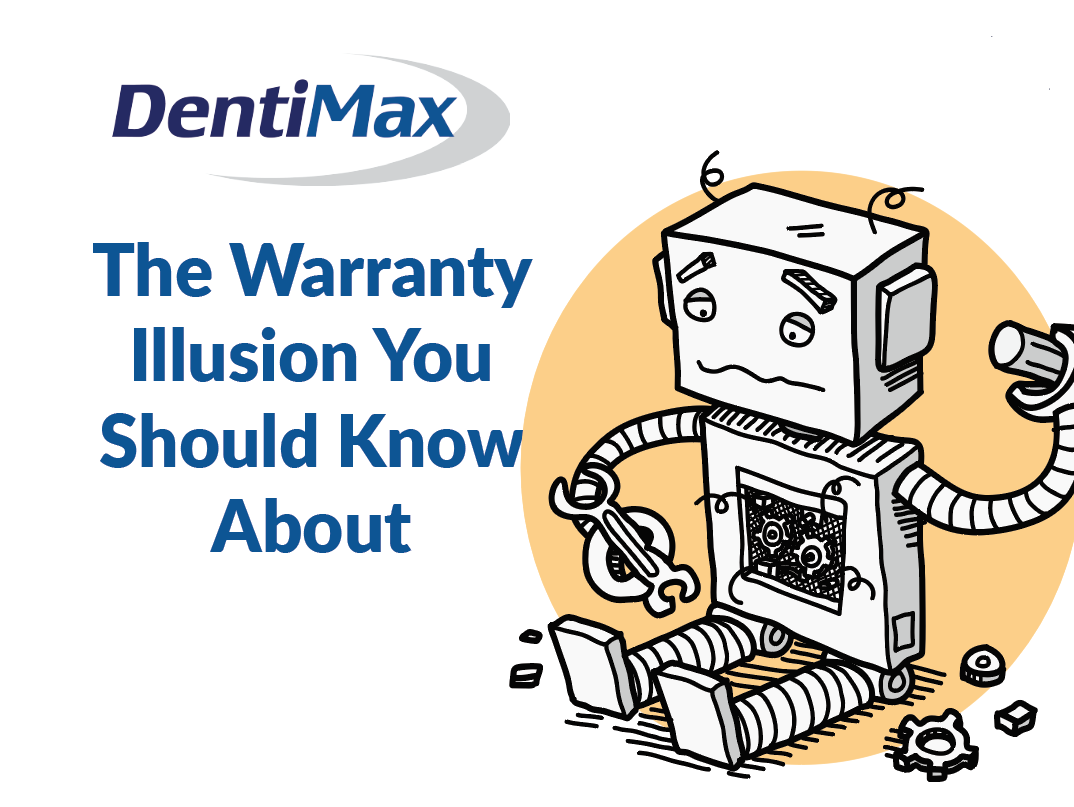 This year, I was able to witness a new trend in the Midwinter Meeting in Chicago and the Yankee Dental Congress in Boston when it comes to digital intraoral sensors. Nearly every digital sensor vendor was talking about the same thing. To my surprise, it wasn't the price or the image quality that everyone was buzzing about. It was the warranties that came with the sensors!
I noticed that there are many sensor manufacturers and resellers who are changing the verbiage associated with their warranty.
Some of the verbiage I noticed were phrases such as:
Complete parts warranty
Total parts warranty
No deductible warranty
The interesting thing is, when you look at the fine print, all of them are simply a manufacturer warranty! There is no difference between any
other manufacturer warranty and these warranties.
The DentiMax Dream Sensor has a three-year manufacturer warranty. We tell this to everyone and this is the verbiage we include in our advertisements, and we don't attempt to make a manufacturer warranty more than it is.
All manufacturer warranties cover "parts and defects in workmanship" -which means that, through no fault of your own, if a sensor just stops working within the manufacturer warranty period, then you will receive a free replacement sensor.
Your sensor will need to be sent into the factory, and they will evaluate if the sensor broke "due to a manufacturer defect" and not because of something you did. If that's the case, we will replace your sensor for free.
Many manufacturer defects are discovered within the first year. Some more reveal themselves within the first two years. For the most part, all of them show up within three years. After three years, it is more than likely that they will tell you it is normal wear and tear. So any more than three years for a manufacturer warranty, is just not going to work. Would you want to purchase a sensor from someone who doesn't understand a sensor's warranty?
With DentiMax's three-year manufacturer warranty, you always receive a free replacement sensor when there is a manufacturer defect. There aren't any "deductibles" —the only thing you would ever pay is the shipping cost to receive your free replacement sensor!
But what do you do during the time it takes the manufacturer to evaluate your sensor? DentiMax has a Loaner Program! So when you have a sensor go down, we will send you a loaner sensor to use while until the manufacturer completes their evaluation. You do not experience any down time!
Let's say the manufacturer determines the sensor doesn't have a manufacturer defect. Then what? Do you pay full price for another sensor. Well, with DentiMax's Five-Year Sensor Protection Plan, you are able to purchase a brand new sensor for a fraction of the cost of our retail sensors when the damage is not covered under the manufacturer warranty. You also receive a brand new three-year manufacturer warranty. This is a value added item that other companies do not have.
This is our way of saying thank you, and we give you the opportunity to get a brand new sensor at a discounted price.
The Five-Year Sensor Protection Plan is not a deductible. It isn't even part of our manufacturer warranty! This is a completely different, separate plan which we include with sensors purchased.
So whenever you see "Three-year no deductible warranty" or "Three-year total parts warranty" or "Three-year complete parts warranty," remember they are simply referring to the manufacturer warranty that all sensors have. Take advantage of our unique sensor protection plan instead!

Jim Ramey holds a B.S. degree in management information systems from the University of Akron. Since 2003, he has worked exclusively with digital radiography technology and has experience with most sensors on the market, including digital, panoramic, cephalometric, and intraoral cameras.