Trying to decide between cloud based dental software or on-premise software? Here, we list some things to consider for your practice.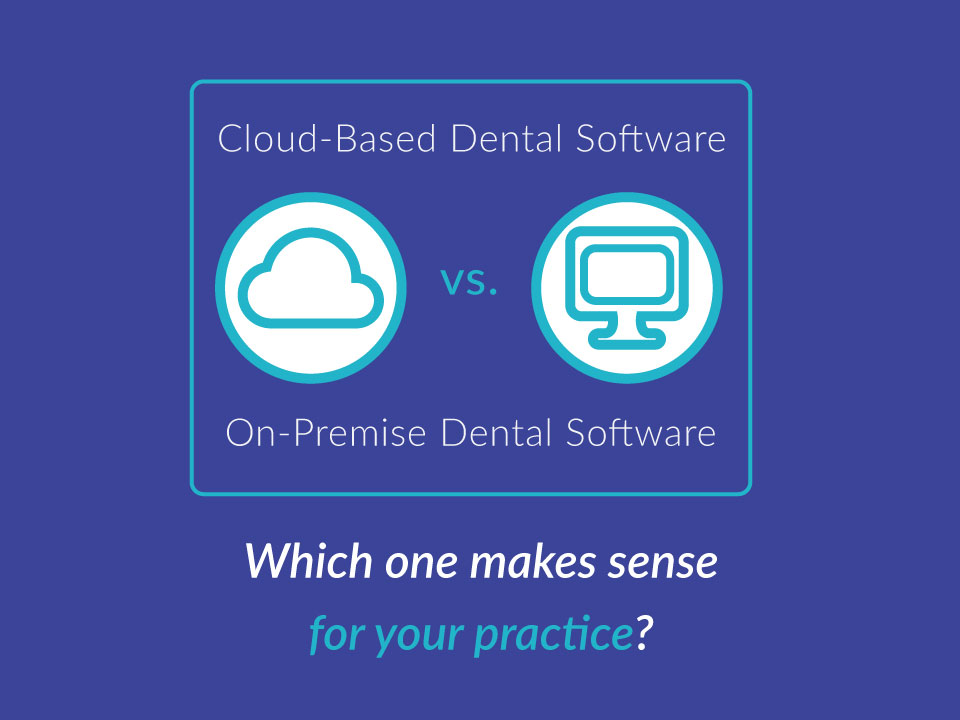 Things to Consider Between On-Premise and Cloud Based Software
Here are the five things to think about when selecting what type of software makes sense for your dental office.
Internet and Networking
When installing new software and operating it between computers, you will need some network configuration. If you want it to run on a local, private network, then an on-premise solution is a great option. Because of this choice, you may need to consider hiring or outsourcing additional IT help to configure a private network.
Monthly vs. Upfront Payment
A cloud program works on a monthly payment plan: you won't actually own the software. This means if you decide to cancel, the software goes away. However, when new upgrades or updates come along, you will have access to those updates immediately at no extra charge.
With an on-premise solution, a dental practice would buy the current version, typically with a one time fee. At DentiMax, we also offer monthly payments for on-premise solutions for those clients that prefer that option. However, you won't find that with most software companies. With on-premise solutions, you will own the software, but you will not get automatic upgrades or updates without paying additional fees in the future for them.
Depending on how your office likes to budget, an on-premise purchase will cost more upfront but won't require a monthly payment. However, you incur other costs like maintenance. In addition, you may deal with another larger, one-time payment should you decide to upgrade in the future.
Dental Software Accessibility
Should you choose to go with cloud software, you can sign in and use it anywhere you have a trusted and secure internet connection. Through an Internet URL with log-in credentials, dentists can access the cloud-based dental software. Because of its mobility, dentists can take a laptop between multiple offices or work remotely.
With on-premise, the software works as an app on the computer or location where you installed it. For example, if you set up your program on the desktop in your front office, it stays there. This set-up might work fine for a small office with a few operatories.
Security and Back Up
For a cloud-based dental software plan, software like DentiMax's will take care of security and back ups at the main source. Monthly cloud plans ensure everything stays up to date – not only with new features or software upgrades, but also with security updates.
On the other end, if you get on-premise software, you and your office will need to conduct your own back-ups. Here is a Tip of the Week video tutorial on how to do that:
Plugins and Integration
Another point for practices to consider involves what integrations you will need. In other words, what APIs will work with the software? Cloud based dental software may have some limits as far as API or 3rd party integration is concerned while on-premise may have more advanced integration capabilities.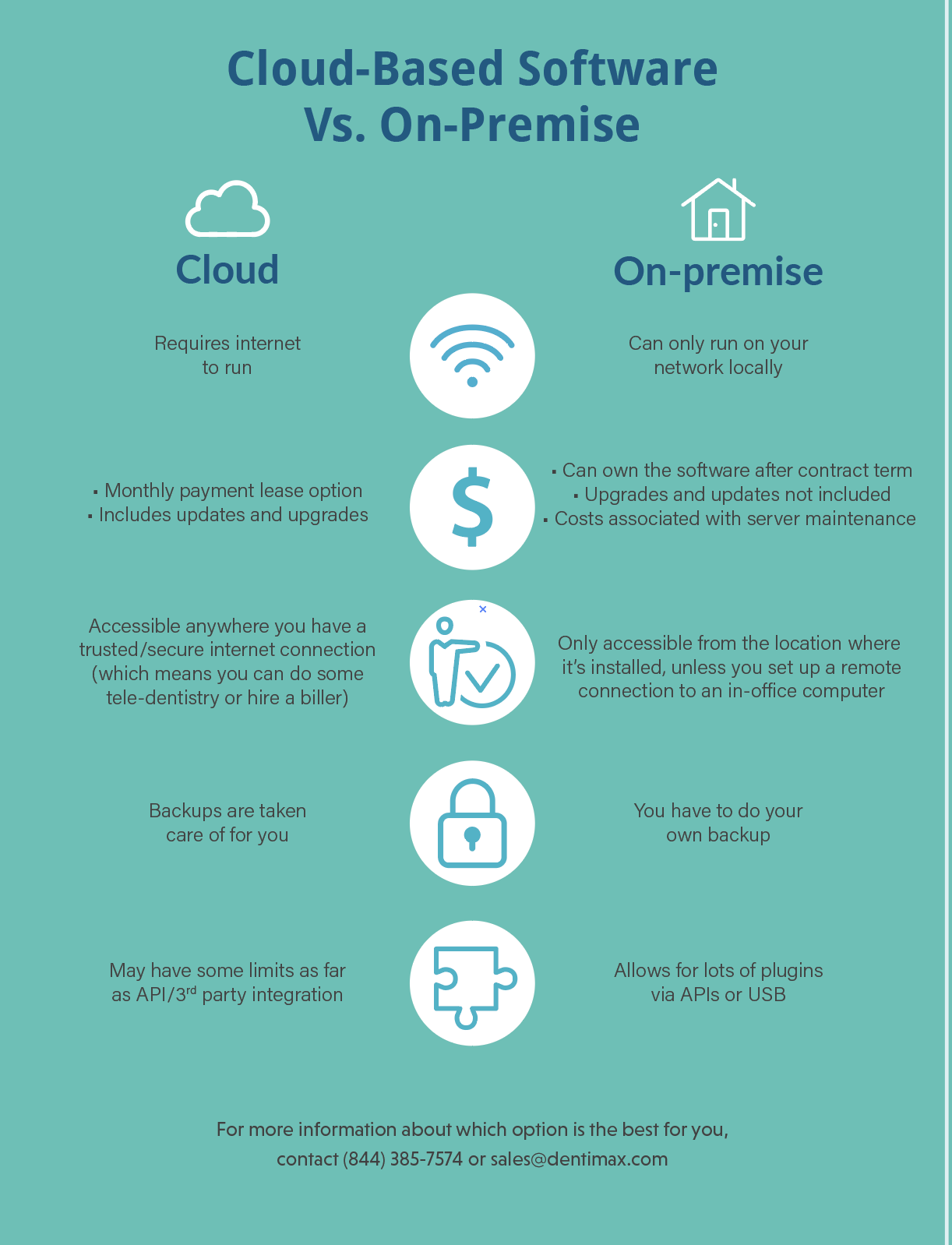 For more information about which option is the best for you, feel free to fill out this form or call (844) 385-7574.

Andrea has a mass communication degree from ASU and comes from a journalism background. She is originally from Mexico City and speaks Spanish as a first language. She loves listening to podcasts and prepares great chilaquiles.