In this next post, I want to answer a question many new dentists ask: How much does it cost to start a new dental practice? And for seasoned dentists: How can I save money on my dental practice? Here are my best tips to save money when ordering dental supplies.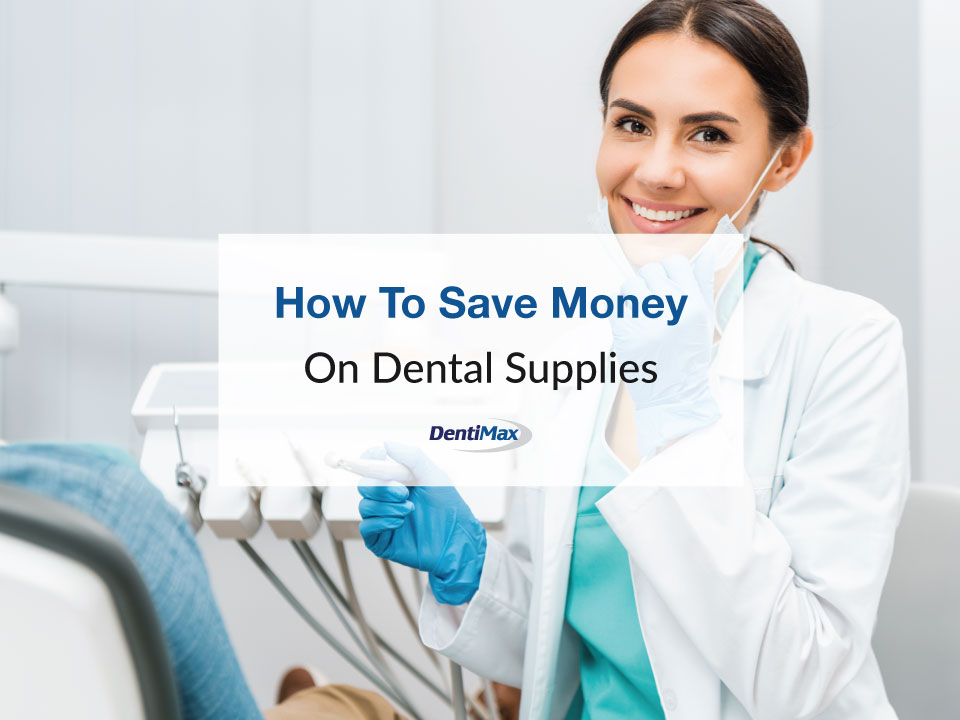 Read Time | 4 Minutes
My Background in Starting Dental Offices and Where to Minimize Debt
I successfully started two dental offices. And I'm not a dentist. If I could start and run profitable dental offices, pay dentists, then any dentist can start their own practice!
Here are the best places where you can save significant amounts of money and increase your odds of making it:
Supplies
Building
Particularly, I want to focus on the costs of ordering dental supplies. This is something that seems little but can add to your tab fast.
What's the difference between dental supplies and dental equipment?
Just to clarify, I'll define dental supplies as smaller items you use on a day-to-day basis. Dental offices need to frequently replenish them —think gloves and anesthetics.
In another post, I defined dental equipment as bigger, investment pieces. In other words, dentists typically only purchase these one time and seldom repurchase parts for it. As an example of equipment, consider things like panoramic X-rays and dental chairs.
Where do you go to purchase dental supplies for your practice?
Do not overpay for dental supplies from Patterson®, Henry Schein®, and the other big names! Unlike the one-time expense for equipment, you pay for supplies every month you remain in business. And so, if you save $5,000 a month on supplies, you just made an extra $60,000 every year. This is money that goes right to your back pocket. Please look at your dental supplies in those terms; this is your money and it is real.
Your dental office will need everything from gloves to composite material. You can choose to purchase dental supplies at a huge premium from a major distributor's local sales guy and enjoy that free lunch he'll buy you, or you can choose to purchase from a discount distributor at a fraction of the cost.
It is your choice and your money. I chose an out-of-state distributor who offered supplies at a fraction of the cost with free shipping. In addition, I was also able to negotiate great prices for crowns and bridge work from a local dental lab. I can't tell you enough how much this upfront effort of negotiating a good price is worth! I saved a ton of money that all flowed to my bottom line (i.e. by back pocket).
Which are the best online sites for dental shopping?
Here is a short list of some of my discount supply houses:
Darby Dental
darbydental.com
(800) 645-2310
Products:
Gloves
Crowns
Disposable Products
Implant Products
Impression Trays
Office Supplies
Anesthetics
And More
SourceOne Dental
sourceondental.com
(888) 239-7160
Products:
Acrylics
Alloys and Amalgam
Anesthetics
Burs
Cosmetic
Crowns and Bridges
Finishing and Polishing Accessories
Handpieces
Impressions
Waxes
And More
Net32
net32.com
(800) 517-1997
Products:
Acrylics, reline & tray materials
Alloys & accessories
Anesthetic products
Articulating materials & accessories
Burs & diamonds
CAD CAM products
Cements, liners & adhesives
Continuing Education Courses
Core materials
Cosmetic dentistry products
Crowns, bands & shells
Dental health education products
Disposables
Emergency products
Endodontic products
Equipment
Evacuation products
Finishing & polishing products
Handpieces
Implant-related products
Impression materials
Infection control – clinical products
Infection control – personal products
Instruments
Laboratory products
Loupes, magnifiers & headlamps
Matrix materials & wedges
Medical syringes and needles
Miscellaneous products
Mixing materials
Office supplies & accessories
Orthodontic products
Patient comfort & protection products
Pharmaceutical products
Pins & posts
Preventives
Retraction materials
Rubber dam products
Surgical supplies
Unique gifts
Waxes
X-Ray products
Next Steps
You will need to equip your operatories with a delivery system and dental chairs. You will also need to purchase accessories and supplies like X-ray heads, a developer, sterilizer, computers, software, waiting-room chairs, furniture, and even artwork.
For the delivery system and other dental equipment, I ultimately found a refurbished dental supply house out of California. Before that, I had previously contacted the big equipment/supply companies and heard all their sales pitches. After my research, it was easy to compare pricing between vendors and make the best educated purchasing decisions.
But just like the major equipment items, talk to your friends about the little stuff too! Don't be afraid to do a little pricing homework; it can be fun. Go online and find out what else is out there.
Who Should Manage Your Dental Supply Orders Moving Forward?
Also, do not give complete control of purchasing dental supplies to your dental assistant. If you do, he or she will take the free lunch from the big dental supply house and proceed to spend your practice into oblivion.
It is your practice and your money. It is OK to instruct your employees where they can and cannot purchase dental supplies. And if they are insistent on paying double the amount for supplies from a major company, you can explain to them why this is important and train them on your budget. It is your money.
Starting a Dental Clinic and Ordering Dental Supplies: Two Final Thoughts
In conclusion, I want to reiterate the two main things to minimize when looking into the costs of starting up a dental office:
Debt
Too many of my dentist friends get taken advantage of by dental vendors. They already come out of school with a lot of debt, and then go way too far into debt when they start their first office. Truly, this is a real shame and doesn't have to be this way.
Lack of Pricing Knowledge
Just knowing that there are great sales deals out there makes a world of a difference. Don't get overwhelmed price-hunting, negotiating for discounts, or asking around on recommendations for dental supplies. If you patiently and consistently do your research, you will find great deals and save a ton of money

David J. Arnett holds a business degree from Brigham Young University, and an MBA from the University of Phoenix. Arnett has owned and operated dental offices and is the co-founder of DentiMax.