A walkthrough of dental equipment costs when starting up a new dental office.
From my experience starting and running two successful practices, I'll share my tips on how to acquire dental equipment from dental equipment suppliers.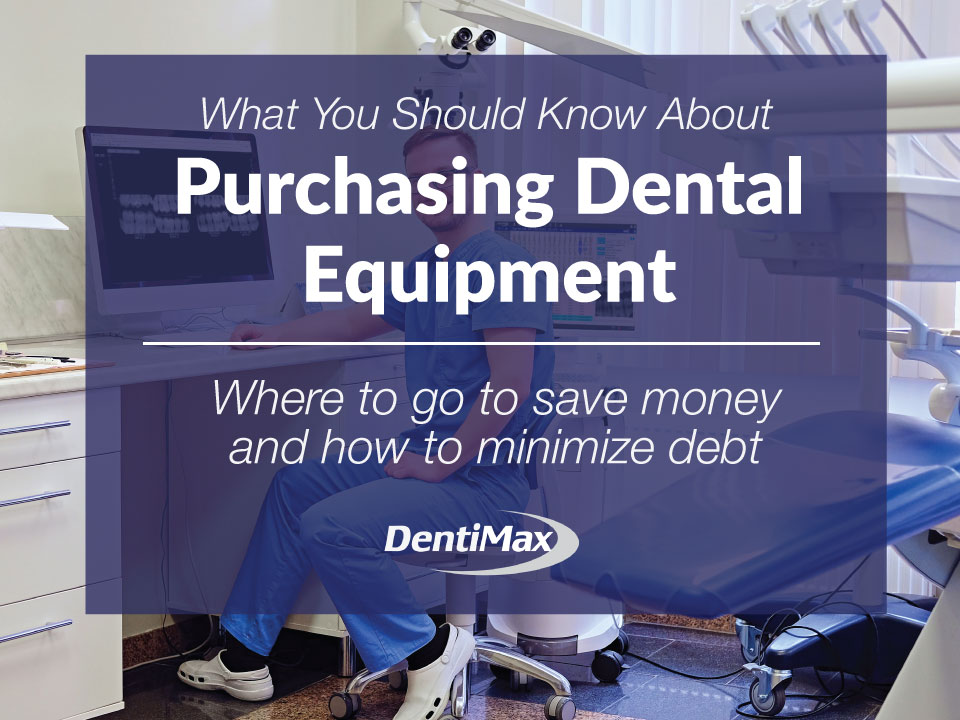 I successfully started two dental offices and I'm not even a dentist! If I can start and run profitable dental offices with the additional expense of paying dentists, then any dentist can start a practice and turn a healthy profit too.
What does it cost to start up a dental office?
Control and Limit Your Expenses
Do yourself a huge favor and don't take on a bunch of debt, especially if this is your first foray into starting your own practice. You most likely already have student loans and a mortgage, so avoid burying yourself in even more debt with all the associated stress!
Here are the main categories where you can save significant amounts of money. By strategically saving in these categories, you will increase your odds of making it.
Dental Equipment
My goal is for you to have the confidence and information to start and run your own dental office from scratch. In this post, I focus on Dental Equipment but cover Dental Supplies and Office Building in other posts.
What's the difference between dental equipment and dental supplies?
Just to clarify, I'll define dental equipment as bigger, investment pieces for your dental office. In other words, these are typically one-time purchases, for example, things like dental chairs and panoramic X-rays. Dental supplies involve smaller items you use on a day-to-day basis – think operatory gloves and anesthetics.
List of Dental Equipment I purchased:
ADEC dental chairs
Dental chair lights
Delivery Systems
X-Ray heads
Vacuum water system
Statim sterilizer
Suction pump
Computer workstations and networks
Networking for computer and telephone systems
Where do you go to purchase dental equipment for your practice? How much does dental equipment cost?
The most commonly known dental equipment suppliers include Patterson, Henry Schein, and other big names. Do not overpay them! Certainly, these big supply house sales guys are extremely good at what they do. When I began shopping around for dental equipment, they pulled me in with their "Jedi mind tricks" while explaining that, "it's going to run $50,000 per operatory for a proper build-out." Really? What a bunch of baloney!
Hot Tip: Save Money By Getting Refurbished and Used Dental Equipment in Good Condition
I found a used equipment place out of California where I bought refurbished ADEC dental chairs, delivery systems, X-ray heads, a Statim sterilizer, developer, suction pump, and a bunch of other items all at a fraction of the big suppliers. Not all of these items were new, but they were all in great condition. I also got great prices on computers and software and found a guy who was able to set me up with a used phone system!
Dental Equipment Companies
Below is my list of dental equipment suppliers where you will get a great deal on dental office equipment, computers, and other related tools.
Company Supplier

Products and Prices

Dental Equipment

Estrada Dental Supply Co.

8556 Red Oak St.
Rancho Cucamonga,
CA 91730

(909) 989-2088
[email protected]

These prices are from a specific quote that I received on 8/21/18. Obviously, the prices they quote you will vary from my quote but this gives you an idea of what you should expect to pay:

– ADEC Dental Carts with electric Handpiece Refurbished – $3,000

– Satum 5000 Sterilizer Refurbished – $2,600

– Matrix Portable Nitrous 4 Tank Unit With New Rubber Goods – $2,200

– ADEC Priority 1005 Dental Chairs Refurbished – $2,100

– Gendex 770 Refurbished X-ray Head – $1,900

– 2 HS Vacuum Air Teck Water System Refurbished – $950

– ADEC 6300 Light With Bracket and Pole – $900

Dental Planet®

www.dentalplanet.com
(866) 815-7606

These low prices are right off their website:

X-ray heads:

Gendex 770 – $2,968
Carestream CS2200: -$2,608

Package Option

– Operatory "Hybrid" Package – $36,998 (some equipment is new and some is used)

Includes:
– 2 Belmont Patient Chairs with:
– Delivery Systems
– Assistant's Vacuum
– Operatory Light
– Dr. Stool
– Assistant Stool
– Autoclave
– Periapical X-ray
– Ultrasonic Cleaner
– Vacuum Pump
– Compressor

Dental X-Ray Sensors and Dental Practice Management Software

DentiMax

dentimax.com
(800) 704-8494

DentiMax is one of just a few companies that offer both practice management software and digital dental imaging as a completely integrated system. The quality and prices are amazing:

Digital Sensors – Right now are starting at $2,999 – $3,999

Cloud Imaging/ Practice Management Software – $299/month

Independent clinical reviews:

– Dental Practice Management Software Evaluation by Dental Product Shopper

Computer Equipment

Dell® (computers)

www.dell.com
(877) 907-3355

Computers

Computer – OptiPlex 3060MFF – $768.61
(This is a super-thin computer that
mounts behind your monitor/ great
for your operatory.)

Dell Micro All-in-One Stand – $99.99
(A very cool monitor stand that
allows you to mount the tiny
computer behind the
monitor.)

Giant Monitors for Ops –
Dell 24 Monitor – P2419H – $209.99

Regular Front Desk Monitor –
Dell 22 Monitor – P2217H – $179.39

Printer/Copier/Fax/Scanner Machine – $299

Xerox WorkCentre 3345/DNI

Dell Support Perks

What is neat with Dell is that they include support and service with their products (i.e. computers, printers, etc.). They literally have partners everywhere and so if you ever have a problem with their computer, they will fix it. These prices are from a specific quote that I received on 9/4/18. Nothing changes faster than computer prices but this gives you an idea of what you might expect to pay for whatever the latest is. (You will want to Google these items online to see how much the prices have come down; Also, Dell makes good computers.)

Amazon® (Computers)

Computers

If you are computer savvy or are working with a trusted computer tech, go to Amazon to find great deals on computers. Just go to Amazon's website and search "Personal Computer" and you will find all sorts of computers. Make sure to check out the system requirements for digital imaging systems and practice management software.

As an example, check out DentiMax's system requirements.

If you have concerns before purchasing, call the software company to review the specs of the computer before you buy it!

Newegg® (Computers)

Computers

You will find amazing daily deals on this website.

For example, I just found a beautiful Dell computer at just $499 each, with a purchase limit of three. That would work great in any dental office!

Networking Equipment

CDW ®

www.cdw.com
(800) 800-4239

Computer Networking/ Telephone Systems

You will need someone to wire your office with networking cable, phone lines, and set up your computer network and telephone system. In addition, you might need someone to buy all this stuff. They are an excellent resource to purchase telephone and computer equipment and can help you get in touch with local IT consultants who will set up your computers and phones for your new practice. If setting up a router, or switch sounds foreign and scary, call these guys. CDW and its affiliates are a trusted company that will help you. If you are a non-tech who is lost with computers and phone systems, these are the guys who will take care of you.

To Get Started

I just called them letting them know that I was starting a new dental office. So you will be prepared, here are the questions they asked me:

#1 Question: What computers will you need help setting up/networking? Etc.

Answer: Dell OptiPlex 3060MFF, with 8 gigs of memory, 512 Gig SSD hard drive, Windows 10s and 22″ and 24″ Dell Monitors

#2 Question: Do you want us to network these for you? And supply the Firewalls, routers, etc.

Answer: Yes! Please!

#3 Question: What type of phone system do you want? Do you need a menus system, voicemail, extensions, etc… How many phones?

Answer: Looking for something very simple, so a menu system is not needed but I would like an extension and voicemail. Need 5 phones: 2 at the front desk, 1 in my office, 1 in the consulting room, 1 in the lab

Dental IT Set-Up and Installation

Sun Valley Tech®

(Local IT Company in California -covers California, Oregon, and Washington)

www.sunvtech.com
(800) 672-8234

Computer Networking/Telephone Systems

Sun Valley Tech is a Value Added Reseller (VAR) for DentiMax and is a complete expert with the computers, software, digital sensors, and phone system:

Set-Up and Support Specialties

– Practice Management Software
– Digital Imaging and Sensors
– Computers and Networks
– Phone System

They sell the above items, set it up, and train your staff; providing a true "turn-key" system for your computer/telephone needs.

Pricing Options

As far as price, they have options where you can purchase what you need at an onetime price or enroll in their monthly maintenance program These guys are good. You can call them if you ever have a problem.

For some offices, they offer a monthly contract where they maintain everything, do regular monthly maintenance and get a lower hourly rate

For extreme examples, you can expect a $2,500 setup.

ExrtremeMicro®

(Local IT Company in Phoenix, Arizona area)

www.extrememicro.net
(480) 446-9400

Computer Networking/Telephone Systems

This is an example of a local company that takes care of all of your computer needs. They will build/buy computers, set up your network, server setup, IP phone systems, etc. This IT company offers a VOIP system (voice-over IP / Internet phone).

When I called them, I let them know that I am purchasing my computer from Dell but you could totally buy from them too. They don't carry older phones but do carry the new VOIP (voice over IP / Internet) phones.

Wiring Your office with Network Cable: $1,960.93
– Run New Cat6 Network Cable for a network (11 runs at 159/run)
– Patch Panel and Wall Mount Bracket

Complete 5 Computer Network

Setup: $11,789.73
See below for the breakdown:


Computer Network Items:
Firewall (WatchGuard Firebox T15) – $398
Switch (Ubiquiti UniFi Switch) – $492
Wireless Access Point (Ubiquiti IEEE 802.11ac 1.71 Gbit) – $159

Five Computers: $5,845
Monitors (Viewsonic 24″ LED LCD)
Intel Core i5-7260U 2020 GHz
16 GB DDR4 SDRAM
250 GB Internal Solid State Drive
Windows 10 Profesional
3″ HDMI Cable
Logitech MK520 Wireless Keyboard / Mouse Combo

Other Computer Items:

Arm Bracket Holder (for 3 desktop monitors) – $75

Ergotron StyleView Wall Mount
$2,367 (to mount 3 monitor and computers in the operatories)

Canon Image CLASS All in One
Printer – $268

Delivery, Installation, and Configuration
All Equipment – $1,424
Tax – $761.73
---
Keep in mind there are deals from other suppliers, so talk to your friends, go online, and do your own homework. It is fun to save money!
And remember, you will have to dig yourself out of the financial hole you create. Most importantly, don't make that hole too deep. It's not worth it.
Two Final Thoughts
In conclusion to this post, I want to reiterate two main things when looking into the costs of starting up a dental office:
Debt – Too many of my dentist friends are taken advantage of by the dental industry. They go to dental school, come out with a lot of debt, and go further into debt when they start their first office. This doesn't have to be the case.
Comparing Prices – From different vendors is empowering and will make a world of difference. Price-hunting, negotiating for discounts, and asking around on recommendations is fun and, most importantly, will keep your debt load to a minimum. Applying these tips will minimize your debt with its associated stress and will get you to your goal of financial success that much faster!

David J. Arnett holds a business degree from Brigham Young University, and an MBA from the University of Phoenix. Arnett has owned and operated dental offices and is the co-founder of DentiMax.