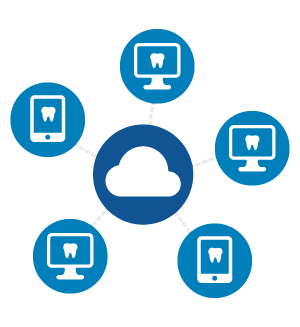 Omnichannel. It's been a big buzzword in the tech world the last two years. It's changed how all kinds of industries think about technology and how it affects customers' experience from retail, hospitality, financial, and so many more.
Now it's coming to your dental practice. But first, let's start off with what exactly it is so we can all understand why it affects all of us in the dental industry:
The Origin of Omnichannel
Omnicomes from the Latin root meaning "all." The idea is that every piece of technology a customer interacts with in and out of your office.
What Omnichannel means for Dental Offices
So you might ask at this point, Ok, what does that have to do with my practice? Everything! How your dental practice management software and imaging software works together can transform your experience as well as your patients' experience with you.
An Omnichannel Dental Office Workflow

Front Office Patient Experience
To start, let's pretend we're one of your new patients; our first check-up is coming up, and our new practice has sent us a text reminder and communicated with us what info to bring. First digital touchpoint.
Next, we go online to the office's website, or we come into the office and the front desk has a DentiMax kiosk tablet ready for us to fill out all our patient info. Super convenient for the patient, faster and accurate for the office. Second digital touchpoint.
Back Office Patient Experience
After we've filled out our info, we go back and get x-rays taken with DentiMax digital sensors and imaging technology. We can see our teeth immediately pop up the screen after the dental assistants' capture with crystal-clear quality. Much more engaging and easy to follow. Third digital touchpoint.
The x-rays then transfer and pop up right next to the DentiMax charting screen. So if the dentist finds cavities or cracks in our teeth then explains our treatment plan, we can see exactly why we need to come back for multiple appointments, and therefore trust we are getting great care from our practitioner. Fourth digital touchpoint.
Check-Out Patient Experience
Check-out time. We want to know how much all those treatments might cost and how much our insurance will cover. The front desk, using DentiMax financial tools, can pull the treatment plan the dental assistant entered, alongside the insurance policy info they quickly updated from the kiosk to determine costs and payment planning. We feel confident at this new office knowing they can quickly and effectively provide to our needs. Fifth digital touchpoint.
This is the power of an omnichannel experience in a dental practice. Integrated imaging and practice management software alongside quality sensors from DentiMax makes it so easy to provide superb care for your patients. 

Andrea has a mass communication degree from ASU and comes from a journalism background. She is originally from Mexico City and speaks Spanish as a first language. She loves listening to podcasts and prepares great chilaquiles.