Dental imaging equipment is essential for a thorough oral examination and to help with the diagnosis of tooth, mouth, or jaw conditions. The American Dental Association (ADA) explains that imaging systems, such as x-rays, "provide your dentist with a more complete view of what's happening in your mouth."
Today's imaging can see inside both hard and soft tissues, meaning it can spot tooth decay and misalignment, diseases of the bone, and problems in the gums, tongue, tendons, and muscles in your mouth.
In the past, dentists used standard analog x-ray machines with film. In the 1980s and 1990s, they gradually began to switch to digital imaging, which offered better detail. Digital equipment and the software that reads the images are also much faster than traditional x-rays, minimizing radiation exposure.
Digital imaging technology also allows for specialization, with different types of equipment and programs serving specific purposes and offering specific views of teeth, bones, and tissues in the mouth and jaw.
Here is a look at the different types of imaging equipment and software you will encounter in today's dental and oral surgery clinics.
What Is Digital Imaging for Dentistry?
Digital dental imaging uses sensors instead of traditional x-ray film to create views of the interior of the mouth.
Unlike film x-rays, digital imaging can take different views depending on the placement of the sensors. It is possible to take direct images by placing sensors inside the mouth, or indirect digital images using traditional x-ray equipment and a digital scanner.
Digital imaging allows for more flexibility and diversity. It is possible to take 3D images, projections, and views that focus on a single layer of the mouth while blurring out surrounding bone and tissue.
Here is a closer look at the diverse world of digital dental imaging.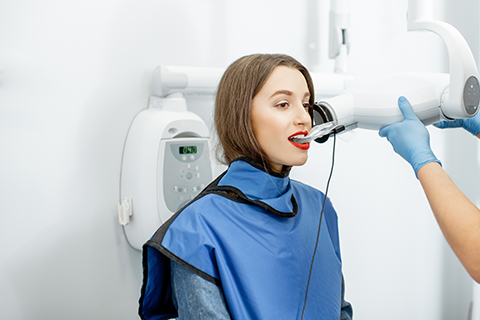 Intraoral X-Rays
Intraoral x-rays are the most common form of x-ray imaging dentists use. This variety of x-ray uses sensors placed inside the mouth, allowing for unobscured pictures of teeth and gums.
Though all intraoral x-rays rely on sensors placed inside the patient's mouth, there are several different types of imaging systems available. The one a dentist uses depends on the type of conditions they are looking for in the images.
Here are the three most common intraoral x-rays.
Bite-wing X-rays
Bite-wing x-rays rely on sensors placed inside the patient's mouth. The patient bites down tabs (or wings) that hold the sensors in place. The images taken by this type of digital x-ray show an undistorted view of the teeth.
The primary reason dentists use this type of x-ray is that it shows decay, even between teeth. Dentists may also place sensors vertically to check tooth density.
These x-rays can help spot signs of gum disease and assess the state of fillings from past cavities.
Every patient will likely have bite-wing images taken from time to time. Dentists may order these pictures more frequently for children and adolescents to track tooth development, patients prone to cavities and tooth decay, and those with multiple fillings.
Periapical X-rays
Periapical (PA) x-rays are focused on a specific area of the mouth. It will typically only show two or three teeth at a time. However, it shows the entire tooth, from the top of the crown to below the root, where the tooth attaches to the jaw. If there are any changes to the structure of the tooth, the root system, or the bone below it, it will show up on this x-ray.
Periapical x-rays can detect infections, abscesses, fractured teeth, root damage, cysts, and impacted teeth. In some cases, dentists may use it to see the depth of decay inside a tooth or to prepare for root canal procedures.
Occlusal X-rays
Occlusal x-rays take an image of the roof or floor of the mouth. The sensors make a picture of the entire arc of the top or bottom half of the mouth to help dentists spot abnormalities. For example, if a child has teeth that have not broken through the skin, they will appear on an occlusal x-ray.
The sensors will also show fractures in the jaw, tumors, and other foreign objects stuck in the mouth. Dentists also use these x-rays to show tooth placement and development.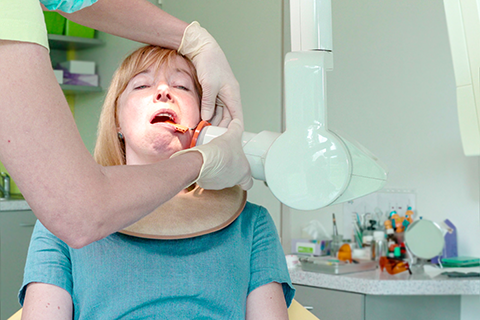 Extraoral X-Rays
Extraoral x-rays also rely on sensors. However, instead of having the patient hold the sensors with their teeth, they are placed outside of the mouth and show more of the jaw, skull, and other bones around the face which can affect dental health.
They can also offer a wider view, which can be helpful for some types of examinations, such as those involving tooth and jaw alignment. However, they do not typically provide the close-up detail that intraoral images provide.
Here are three of the more common types of extraoral x-rays.
Panoramic X-rays
Panoramic x-rays, as the name suggests, show the entire mouth in one image. The sensors for this image are in a machine, which takes a two-dimensional image, similar to a traditional film x-ray.
Most dentists do not use panoramic x-rays during regular checkups. Rather, they are used when patients complain of pain, when they have sinus or jaw issues, or if the dentist wants to check for other problems.
Panoramic x-rays can show fractures, impacted teeth, wisdom teeth, cysts, and infections. Even though this image is not as detailed as intraoral x-rays, it can still show signs of cavities.
Tomograms
Tomograms are a unique type of x-ray image. They focus on one layer of the mouth. Dentists will rely on tomograms when they want to see a section of the mouth that is typically obscured by other oral features. The tomogram blurs out these blocking teeth or bones and allows the dentist to see the target area.
Cephalometric Projections
Cephalometric projections look at the entire side of the head in profile. This type of image is common in orthodontics because it shows the position and overall alignment of the teeth, jaw, and skull.
Orthodontists typically use cephalometric projections when they are deciding which type of alignment treatment is best for the patient. They also rely on the image to assess the results of treatment.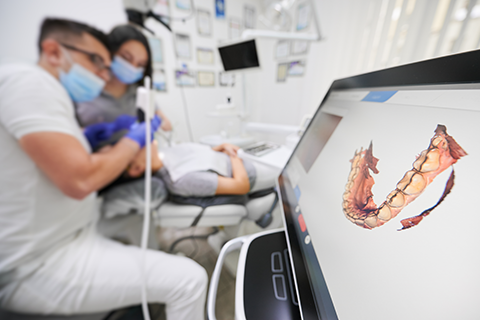 3D Dental Imaging
The latest evolution of dental imaging involves 3-dimensional images. This type of imaging relies on specialized equipment and software powered by algorithms. The sensors rotate or move around the head and take many different 2D pictures, which the sophisticated computer programs then piece together to create a 3-dimensional image.
In addition to providing exceptional detail in a single picture, 3D images allow dentists to make accurate measurements for treatments and procedures. Because it is a composite of different images, it can offer detailed insights into the nerves, tissues, gums, teeth, roots, and jaw bones.
There are currently two types of 3D dental imaging.
Computed Tomography (CT Scan)
Dental computed tomography scans (better known as CT scans) create a 3-dimensional image of the entire mouth. Tomographic images show thin layers of the mouth. A CT scan uses sensors that rotate quickly, producing multiple tomographic images. The CT machine's software stacks these pictures together to create a 3-D image.
Patients will not get a CT scan during a regular preventative checkup, but a dentist may order one if they want to check for cysts, abscesses, tumors, fractures, or structural damage.
CT scan equipment is typically kept in a special imaging center, so unlike regular x-ray machinery, you will not see it in a dental clinic.
Dental Cone Beam CT (CBCT)
Dental cone beam CTs work like regular CTs in most ways. The machine takes images and combines them using sophisticated computer software. The difference between a cone beam and a standard CT scan is the imaging method.
Cone beam machines rotate around a patient's head. However, they can get all the necessary data in one rotation. Standard CT machines need several rotations to gather the different 2D pictures to create the final 3D image. Cone beam CT machines are efficient and safe enough to be used in a regular dental clinic, so patients do not need to go to a special center.
This CT scan paints a complete picture of the bones, teeth, tissues, gums, and nerves in the mouth. In addition to helping dentists find tumors, cysts, and impacted teeth, it can guide the placement of implants and help prepare for surgery.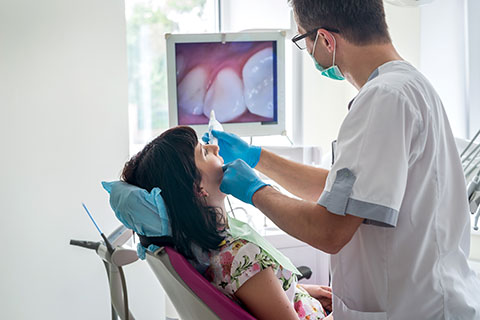 Intraoral Cameras
Intraoral cameras and small devices capture images inside the patient's mouth. These are standard digital pictures, not x-rays. The camera is typically mounted on a hand-held with the real-time image shown via a wired or wireless connection on a screen. The dentist can use this image to get a close-up view anywhere inside the patient's mouth during an exam. They can use it during a standard preventative checkup or if they want a closer look at a specific problem or get a closer view during a minor dental procedure.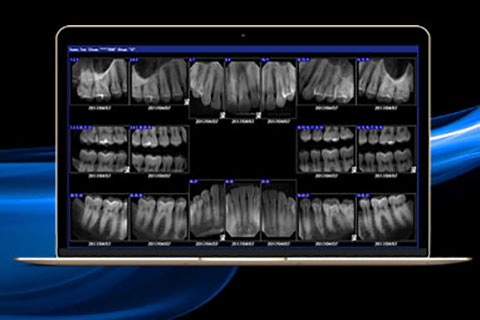 Dental Imaging Software
Dental imaging software can help you manage diagnostic images from different devices and sources. These programs can help you capture and organize images in one place, which makes it easier to keep compliant patient records. Dentists can also quickly access images for diagnosis during a patient's appointment and even show patients pictures to explain a diagnosis or preventative steps they can take to improve their oral health.
Bill is the report programmer for DentiMax. He received his B.S in Computer Science from Michigan Technological University.