There are a lot of layers and details in running a dental practice and plenty of different dental management software options on the market.
The question is, which dental software programs do you really need to run a successful dental practice, and how can different types of practice management software help you?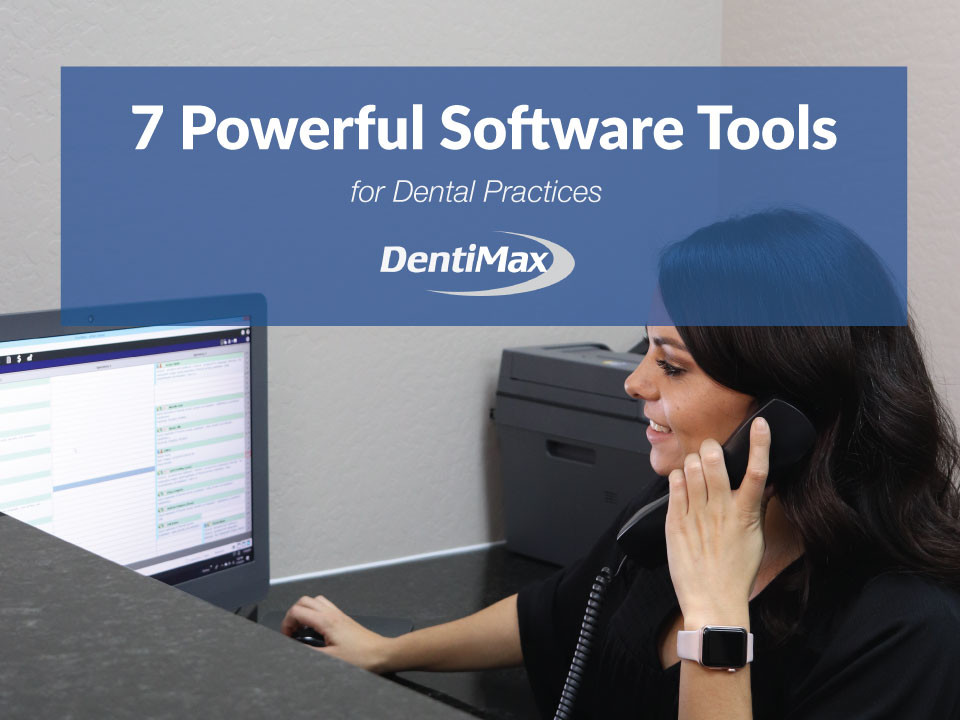 The purpose of dental practice software
Dental practice software can serve many purposes, but the underlying goal is to give you and your staff software tools that are specific to dental practices which will help streamline your processes (such as cloud-based dental software), create a great patient experience (easy communication and pay options), and ensure that your office is financially successful.

Dental Management Software and Dental Electronic Health Records
At the heart of dental practices, you will find dental office management software. Dental practice management software is used in both the front and back office areas. In most cases, both office managers and clinical staff keep track of patient electronic dental health records and financials.
Most dental management software systems include different modules. These modules include dental appointment software, dental accounting software and payment processing, electronic health records to track the dentist's clinical notes on patient procedures, future treatment that the patient needs, and their overall oral health.
Training Archives
Dental software is the most powerful tool for your practice. To utilize all its capabilities for your office, you and your staff will need to understand how it works. Training can show you all kinds of ways to get the most from your software and improve your dental business.
Look for a good software brand that provides the right kind of training to fit your needs. Whether that's digital, with live or on-demand webinars, quick training video tutorials, online live training, or in-person training.
Online Booking and Scheduling Software
An online booking tool – like the DentiMax kiosk – gives patients the opportunity to fill out their information at their convenience. Whether that's cutting back on paperwork when they come in, or let them fill out their info from home on their phone or computer. They can also update their patient information anytime. Time to say goodbye to illegible intake forms and inaccurate information!
A good scheduling tool will not only make it easy for patients to register for your practice, but also help you make customized templates for standard treatment consents your office uses on a regular basis. Through these templates, you can save time. This helps save time from inserting repetitive data, and bring patient awareness before they step foot in your practice.
Dental Appointment Software
A powerful scheduling tool should also help you map out a plan for a patient who needs extra work done or repeat visits with the doctor. It will also allow you to keep track of your patients' scheduled cleanings. Additionally, it tracks no-shows, and allows you to keep your schedule full by knowing which patients may want a "sooner" appointment. This will help you minimize costly missed appointments and keep the patients and income coming in. In addition, appointment software will help you keep important notes and details on patients to minimize duplicate data or inaccurate information.
Not only does dental appointment software help you organize new and existing patients, but can also help you organize your team's workday. This can be super useful to organize hygienists' and providers' schedules. Additionally, it can tailor procedures to their availability and maximize the best time to perform certain procedures by templating the schedule.
A good example of this would be if your office starts work on patients on time, but ends up running late by mid-day. Template and schedule new patients for the first morning appointment, or right after lunch to make sure you create a good impression by being on-time for them, and it will help address more effectively the "unknown" factor that a new patient can bring. A good appointment software can really help your office tailor your calendar to your dental practice's workflow. Having a good dental appointment software can also help you with your office financial goals as well.
Dental Accounting Software / Payment Processing
With tools that enable you to view your scheduled revenue that correspond to scheduled procedures, you can anticipate what cash flow is coming in or what ways you can boost that cash flow for the upcoming weeks.
Scheduled revenue tools can show you how cash flow estimates can continue to adjust as insurance plans and scheduled procedures change. Good dental accounting software will allow these estimates and planned items, once completed, to correspond and show changes in payment history/ledgers. These include estimated remaining insurance benefits for the patient. It's important that the patient ledger can accurately account for the charges completed, payments made toward that treatment, and any insurance adjustments and payments made. Along with the balance for each item. This line item accounting method will allow patients to understand where their balance is coming from, and match that treatment up with EOB's they may have received from the insurance company.
With powerful financial features, the right practice management system will provide ways to integrate all your payments together in one place. Additionally, it will help you organize reports so you can analyze the monetary health of your practice on a weekly, monthly, or annual basis.
Patient Communication Software
Texting and Email Reminders
Regarding texting, a survey from a few years ago found that 82% of the patient responders read those texts within 5 minutes, 55% preferred appointment reminders via SMS, and 35% via email. Imagine what having patient texting communication in dental practices could do for no-shows! DentistryIQ noted that 10% of scheduled appointments on average are no-shows.
Sending texting and email reminders to your patients could do more than just minimize those missed appointments. In addition, the publication mentioned that practices who effectively implemented texting communications with patients increased their revenue by 25%. Having an electronic communication feature in your dental software that includes a simple, streamlined texting system can impact your scheduling and overall revenue.
Patient Communications
But why stop at appointment reminders? The more powerful your communications tool, the more capabilities and outreach to consider with it. Go beyond the twice-a-year appointment reminders and look into improving patients' experience with happy birthday texts and emails. Send newsletters or monthly specials to your patient to generate more potential revenue (think whitening!). A good tool will enable an easy back-and-forth conversation with a patient. Through these means, the front office can reschedule appointments without the patient stressing about having to call during work (or forgetting to call to change their appointment at all).
The easier it is for your current patients to communicate with the office, the more comfortable they will feel about coming back and help eliminate the dreaded "no-show fee" along with the patient's "no-show fear".
Marketing Communications
Look for communications tools that not only help you contact current customers but prospective ones as well.  
Practice Website and Blog: show prospects how inviting and friendly your office is with fun posts about your company culture, patient testimonials, and any specials you're running for new patients.
Google Business: Make sure you add your office's info to Google Business so you can get proper listings in their maps tool and provide information for people looking for a new dental office near them.
Social Media: Additionally, social media is a great place to post not only your practice's information but also special events your team is attending in the area or running in your practice. Facebook makes it really easy to locate local business events for its users. YouTube and Instagram can also help you share testimonials and transformations from your current patients.
Tools like these, and so many more, can help you acquire more patients and grow your revenue.
Reviews
Think of reviews as an expanded referral program and consider all the places your patients might share their opinions. From Yelp, Google, to insurance portals, patients will share their experience online in many locations.
Encourage your patients through emails, texting, social media, or in-office signage, to go online and share their experience. Then, don't be afraid to join their conversation – especially if it isn't 100% positive. Potential patients who read these reviews and see your response for the unhappy ones know that you care about their experiences as well. Whether reviews are positive, negative, or neutral, they help potential patients trust you more, simply by having an online presence. Also consider the opportunity to gain insight on how to improve your office or how to play up your office's strengths more.
Dental Imaging
Dental X-rays are bread and butter for diagnosing patients, and the right dental imaging software can make a huge impact in the office.
Dentists should consider looking at imaging systems that accomplish not only pulling high-quality X-rays for diagnosing, but also how they work with other platforms and workflows in your office.
Purchasing an "open" system can cut future expenses by having the ability to integrate easily with any future dental imaging equipment you may need to add or replace. This empowers a dentist to shop around for dental sensors and dental imaging accessories that have the best value on the market.
Imaging software that integrates seamlessly with your practice management software can save time. Both in treatment planning and streamlining sending electronic X-ray attachments to claims.
Dental Clearinghouse for Processing Dental Claims
Claims and Claim Attachment Services
With these services integrated into your software, you can securely submit and more quickly collect on insurance claims. You know how it goes with claim processing, the time-consuming, hard-to-get money? What could take weeks of back-and-forth with paper and phone calls could occur in a fraction of the time.
Electronic claim attachment services can help save time and reduce submission errors (and save some trees). Attachment services let you add pertinent treatment information and supporting to documentation – like X-rays or dental images of the patient's mouth, perio charting, and narratives. Processing claims and attachments electronically not only expedites collections but also saves you back-and-forth time if there are coverage issues or patient demographic errors.
Real-Time Eligibility
In addition, save time calling the insurance company on patient eligibility status with real-time updates online.
With the right dental clearinghouse, you can access insurance information in real time directly in your practice management system. Imagine when a patient comes to check out and has new treatment that needs scheduled and you can give them a more accurate estimate of insurance coverage and patient payments.
This not only helps you improve your patient satisfaction but helps you schedule the patient while they are in front of you instead of trying to catch them later, which will allow you to boost production and collection quickly and easily.
Credentialing Services
Finally, the latest clearinghouse integrations not only keep claims secure, but can also help you get credentialed with an insurance company if you want help signing up to be in-network with new plans. They can also make sure you are alerted so patient's' insurance information stays accurate and current as well.
Cut out all the manual labor required to review insurance information, process claims, and submit them via snail mail. Clearinghouses can truly help your dental office collect on claims, save staff time, and provide better service to patients.
Electronic Prescription Writing services
Dental practices and patients can save a lot of time with electronic prescription writing services. Here are a few ways that electronic prescription services can help your team and patients:
Set a template for standard prescriptions issued
Establish and monitor prescription expiration dates
Communicate and control the number of refills with pharmacies
Submit multiple prescriptions quickly
Issue prescriptions instantly to pharmacies
Quick pharmacy look-up
Not only will e-prescribing help expedite the process of issuing scripts from anywhere, but it will also help you manage controlled substances securely. In addition, it adds transparency among other dental and medical specialties on how each patient is treated. Some e-prescribing companies even have a mobile app. From there the doctor can issue prescriptions when an after hours emergency pops up.
Electronic Statements
Imagine getting rid of print and mailing expenses with electronic patient statements. In addition to saving on expensive postage and using staff time to stuff and mail envelopes, letting patients view their statement online helps ensure their prompt attention to their balance.
With electronic statements software integrated into your dental practice management system, dental practices can send direct statements to their patient's email securely and effectively.
According to BillFlash, a partner electronic statement company that integrates with DentiMax software, statement expenses cut in half. From printing, mailing materials, and postage, each statement can cost a dental office 79 cents. While an electronic statement email with a secure web link only costs 37 cents.
Cut costs. Save time. Collect more payments. Reduce carbon footprint. Definitely not hard to see how this powerful software tool can transform your practice.
Integrated Credit Card processing
Connecting payment processing to your dental practice management software is a must. By collecting payments this way – whether with a card, check, or cash – it auto-posts to your ledger. This is crucial for eliminating human error on your posting and keeping your accounting streamlined in your dental software.
Thanks to this powerful software tool, patients and offices can reduce manual entry errors too. Credit card processing payments eliminate double entry of payments and minimize posting errors.
In addition, a good program makes a quicker and smoother checkout process. The software processes invoice payments more quickly. And it can provide either printed receipts in the office or emailed receipts direct to the patient. For returning patients, this integrated program can store their credit card information safely and securely for even quicker card-less checkout. The office can even schedule a pending or recurring payment based on their needs and any agreed payment plan.
Making payments convenient and tailored to the patient will assure a better experience in your dental practice. And it will increase your collection rate. On the backend, the information stores accurately and safely into your accounting process and is PCI compliant.
Why Invest in Powerful Software Tools for Your Dental Practice
When looking to grow your profits in your business, powerful software tools can help you get there. These tools can cut expenses in improving data accuracy, reducing paper costs, and saving your staff time. Additionally, they can provide better customer experiences and boost new patient registration and communication.
With all the new technology these days, why make your staff run on pen and paper? Especially when digitizing the process will streamline your workflow into one powerful tool? With these systems, you'll be a smarter and more informed business owner. You can monitor the progress of all these goals quickly and effectively. You'll be happy to find that you are relieved from some manual processes. And now you can focus on the work you want your staff and yourself to do.

Alicia Dieujuste has over 17 years of dental experience between working with a dental consulting firm in several types of dental practices to working in the dental software space.