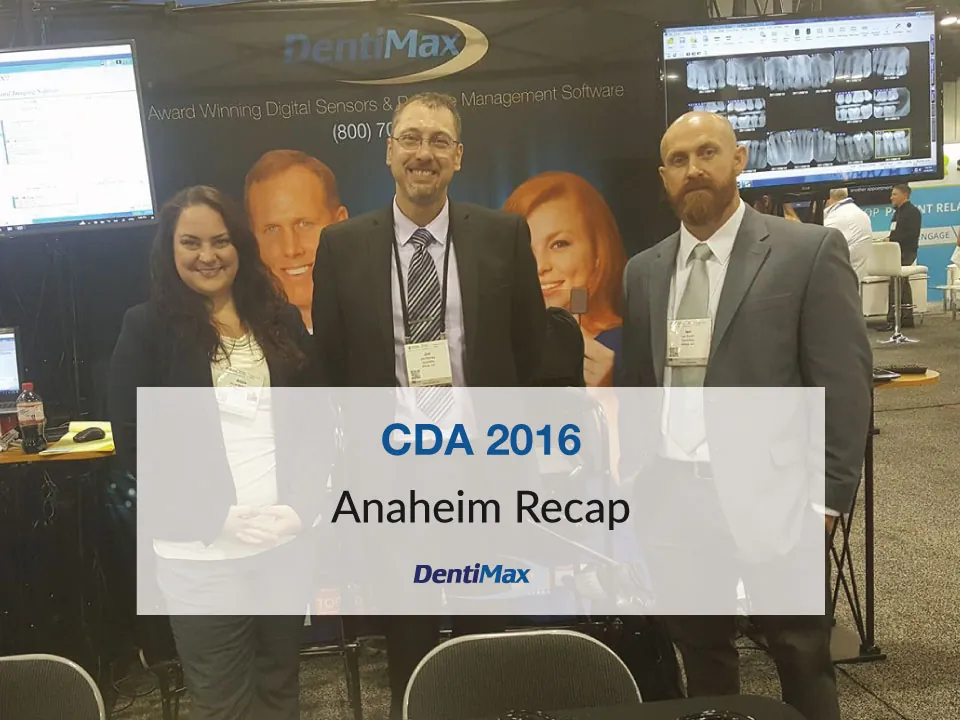 Held across the street from Disneyland at the Anaheim Convention Center, this year's CDA 2016 show was an amazing success! Read all about it in our recap.
It's always fun to meet with our current customers away from the office. We loved listening to their real-world experiences. And we also enjoyed giving them advice and suggestions on how to better use their dental software and x-ray sensors.
Often times little suggestions really makes a huge difference in making the software work that much better in a practice. Show attendees met and received tips from key DentiMax employees. The team included Jim Ramey (Imaging Director), Alicia McKinney (Lead Trainer), Ian Smith (U.S. Account Manager), and David Arnett (Company Co-founder)
In addition to meeting so many current and new customers, we shared key new features from our latest software releases:
New Advanced Dental Imaging Features Shown at CDA 2016
During exhibit hours Jim Ramey demonstrated many of the enhancements in the new release of Advanced Imaging, including:
Taking multiple "on the fly" x-rays on the same tooth which is useful feature for endo and implant procedures
New macros which allows you to run several image macros at the same time
The new multiple periapical layout
New Dental Practice Management Features at the CDA
At the same time Alicia McKinney demonstrated key new practice management software features. New features included the all-new DentiMax Kiosk. The kiosk allows new and existing patients to complete all of their paperwork on a tablet PC. Which is a tremendous time saver!
Always Anaheim is such a wonderful place to visit and the CDA is always an amazing show. During our time there we made new customers, renewed many friendships, received future release ideas, and shared many time saving tips with friends.
Special thanks to everyone who helped make the Anaheim CDA 2016 such a wonderful show!

David J. Arnett holds a business degree from Brigham Young University, and an MBA from the University of Phoenix. Arnett has owned and operated dental offices and is the co-founder of DentiMax.