Benefits and implementation guidelines for dental professionals and dental practices to consider when deciding on an integrated dental software system.
What Benefits to Look for in your Dental Office Software
Using dental software that integrates a dental professional's full workflow and puts them ahead of the curve. The latest dental software technology enhances connections between computers, dental imaging and practice management programs, and other health care facilities.
Fully integrated dental software makes it easier to run new technology than ever before.
Benefit 1: Secure Dental Practice Data Back-Up
One benefit includes immediate office data backup. Dental clinics don't ever want to deal with lost patient data.
Dental practices need to protect necessary patient information, especially during crises. Look for dental software that includes data backup, or chooses a reputed service if it doesn't.
Benefit 2: Integrates Dental Imaging and Practice Management into One System
Dental practices can draw huge benefits from office integration dental software. It allows integrating digital dental x-rays and other treatment planning
When dental practice management software and dental imaging software work hand-in-glove, the possibility of an error reduces substantially.
Benefit 3: Better Dental Patient Service
Streamlined dental software provides huge benefits to their patients.
Integrated software helps offices see patient data more clearly. Dental services delay when office managers or dentists have to dig through archaic paper files, microfilm or legacy computer systems. Dental office patients can feel happy knowing that their dental practices invest in their care with the latest dentistry technology.
Benefit 4: Better Communication within a Dental Office
Experts in dental care believe that communication streamlines when an office integrates their system.
Integration creates a comprehensive connection between office computers. Any changes from a workstation will immediately update in every other computer connected to the software.
The more integrated a practice, the more likely it is to run efficiently than its competitors.
Benefit 5: Better Communication between Dental Facilities
The right integrated dental software can help you access your data between multiple facilities.
This is an especially important benefit for larger dental clinics that operate at many locations or
locations with many providers.
When Considering Integrated Dental Software:
It is important that owners consider the pros and cons of installing a particular dental system. Dentists and office managers need to decide how integrated dental software fits in their dental practice's workflow.
Make sure you know what you want from the software. Here are questions to ask to decide which software to implement in your dental practice:
Are you looking for a facility where patients can

check-in for an appointment from the waiting room

?

Do you want internet portals where patients can fill certain forms from their homes prior to they reach your office?
Will you want remote access to the patient management system of the office?
Do you want x-rays from your dental sensors to streamline your treatment planning?
Are you looking for your back office to

flow naturally between your front office?
Then it's time to shop around once you have answered all of these questions. You want to make sure that you get dental software that you can use and your practice can afford.
Implementing a New Dental Software System
You want to make sure that the software is something that will allow you to do a phased implementation. There should be adequate training and customer support as well.
Why?
Well, you don't want the chaos of a conversion effort boggled even further by a lack of training. It could severely impact your practice from running smoothly.
So remember, you want good software that meets your business needs. You want software that has a lot of support as well as training. And you want software that your practice can afford. That way you'll know you're not just found dental software, you've found the best dental software.
Dental Practice Management Software Implementation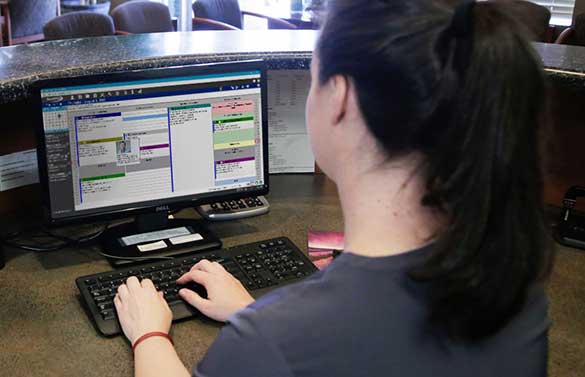 Declaring your dental practice management software 100% functional requires proper implementation.
Different offices will have different workflows and some of the software systems will not match with the needs of the practice. For software implementation to work properly, it must be carefully planned out.
For example, the worst form of
dental software implementation is a complete conversion without testing. Without professional help, you have a good chance of massive data loss, needed staff functions not working, and unnecessary stress.
Data loss is one of the most troubling problems. Without backups of the data, a practice could, in a worst case scenario end up closing its doors.
Practice data is usually the medical records of patients as well as fiscal information. That's why if you run a dental practice, you must take caution how you convert your software.
Implementing New Dental Software
Compare your needs with the template presented by the developers and reflect objectively on the possibilities.
Ask yourself questions like:
Do we need to incorporate legacy systems?
What about records?
Should you go for a partial conversion, a phased conversion, or a complete switch over?
Try installing a trial version to determine if a specific brand is a perfect fit for your practice.
Consider your long-term goals.
This kind of invention should serve your dental practices' needs for a long time with periodic updates. If the design is not in line with your dental practice's future, look for other software solutions.
Changing your system after some time is expensive and inconvenient.
Finally, your ideal choice should be user-friendly.
It may not seem like a key aspect but it is what determines how well the other functions will serve you. Most programs are designed in such a way that the user will figure it out intuitively with minimal guidance.
Your staff should be able to quickly figure out how to work with it so transitioning is easy. Then you can consider the features before you purchase.
Remember, choosing the best dental management software is about meeting your practice's present as well as future needs.

Alicia Dieujuste has over 17 years of dental experience between working with a dental consulting firm in several types of dental practices to working in the dental software space.